The solution is simple to Show The Window Desktop Clock seconds pointer
 on your Windows 11, 10 or 8.1, and Windows 7 or MS Server OS!



Please activate the second pointer feature in TheAeroClock (... see Image-1)

Please use always: ... the latest version of The Aero Clock for Windows!




Of course, it's up to you whether you want to see the ticking second hand on the desktop clock or not, some Windows users find the second hand chic, others find it annoying when the second hand is moving on the desktop, that's why you have the Freedom of choice, whether the second hand should be displayed or not! 






(Image-1) Show The Window Desktop Clock seconds pointer!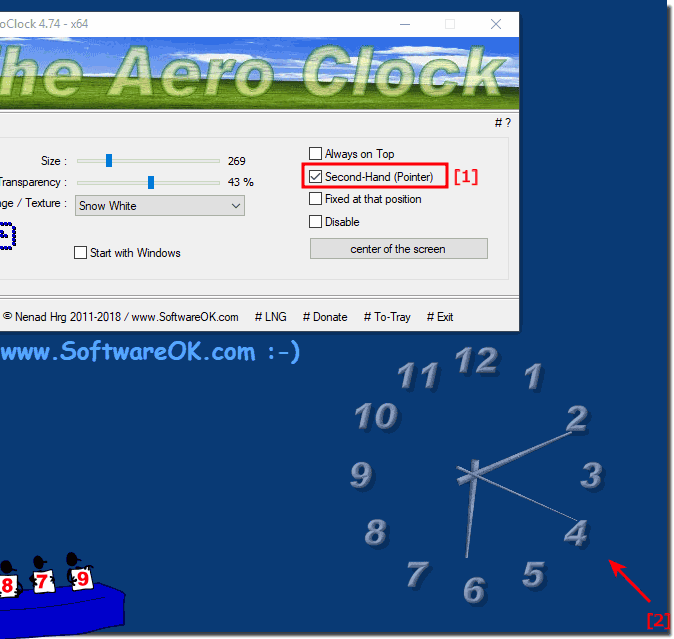 Info:
Most watches have an analog hand to indicate the time, and often on the dial a third hand can also be found. Thus, hour, minute and second are displayed! Most often, the second hand is centrally located in the center of the dial, but sometimes it appears on a separate small dial a simple design decision, especially at a watch with a chronograph.
Many watches with a chronograph do not have the central second hand. Quite different here in the desktop clock this is placed here in the middle, and can be optionally displayed or hidden. As you can see above in Windows 10 shot screenshot it is the second hand no matter whether it is a home Windows desktop computer or on the go on the tablet PC or Surface Pro and Go, or even on a Business Server operating system. Of course,
the time should be set correctly under Windows
.
FAQ 4: Updated on: 8 July 2021 16:29