Change the desktop background image in Windows 10, or use own pictures for the desktop wallpaper!




Info:
Here's the solution for just how to accomplish this task, the solution is also suitable for Microsoft Windows 8.1/7 and server 2012 R2 plus 2016. Wallpaper ergo Desktop Background customization is an important point in personalizing of your own Windows PC. 




See also: Lock Screen Password || Screen-Saver + Password || Auto-Login Windows-10 || Change Windows Colors

1.) Direct opening of the desktop background settings in Windows-10!
Here is the command with which you can create a Windows 10 desktop shortcut:


control /name Microsoft.Personalization /page pageWallpaper



This can be started from the Windows 10 Run dialog (... see Image-1 Arrow 1 to 5)



(Image-1) Desktop Wallpaper and Backgrounds in Windows 10 Classic Options!

2.) Indirect open the Desktop background settings in Windows 10!
By right-clicking on the desktop, start the Personalize option!
Now you can customize the background, and color, Windows 10 lock screen, design and start :-)
(... see Image-2)



(Image-1) Open Desktop Background settings in Windows-10!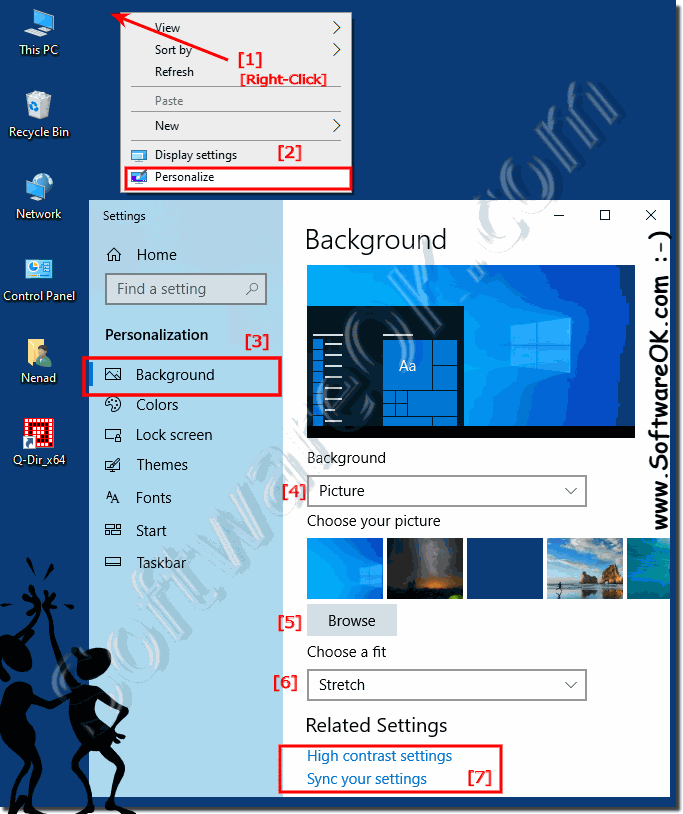 3.) Advanced settings of desktop wallpapers in Windows 10!
Click (right click) on an empty space on the Windows 10 desktop and choose the Personalize option, and select also the Background Register! (... see Image-3 Arrow 1 to 3)

Now you can easily change the background, for example, in slideshow, select the slideshow directory and set the image change interval / time interval. And the images adjust method! (... see Image-3 Arrow 4 to 7)



(Image-1) Advanced Settings Desktop background in Windows 10!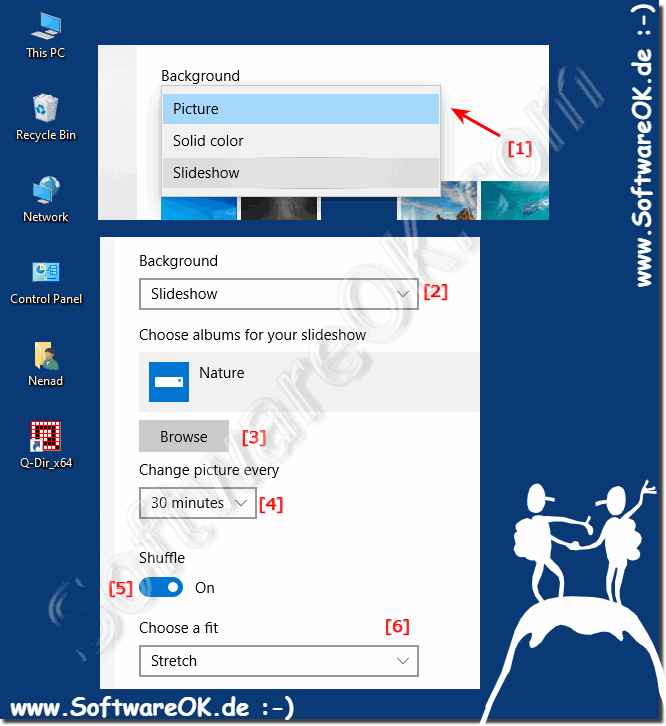 4.) Change the background image from a specific folder!
If you work with the Windows 10 File Explorer, you can also directly define a particular image as your desktop wallpaper by right-clicking. If you wish, is not only for use of single images for your desktop background, a multiple selection of images is also possible. (... see Image-4)



(Image-4) Change Desktop background via image file selection!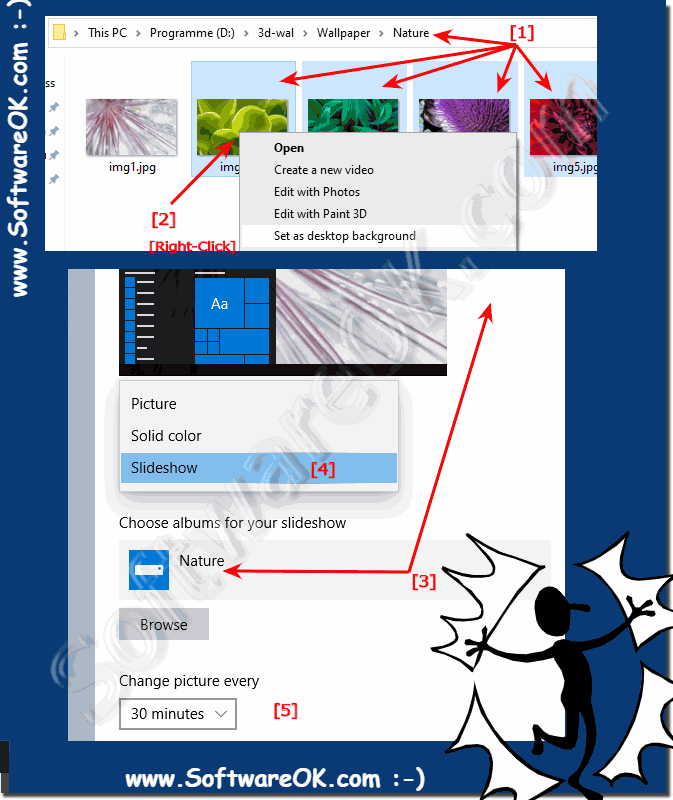 5.) Default wallpapers folder of Windows 10 designs!
If you have downloaded Windows 10 designs, the images are located in the folder (directory):

%windir%/Web/Wallpaper

or C:\Windows \Web\Wallpaper. This is handy when you want to use the Windows 10 wallpapers for another computer. You don't need to download these again. (... see Image-5)



(Image-5) Default folder for Desktop Wallpaper in Windows 10!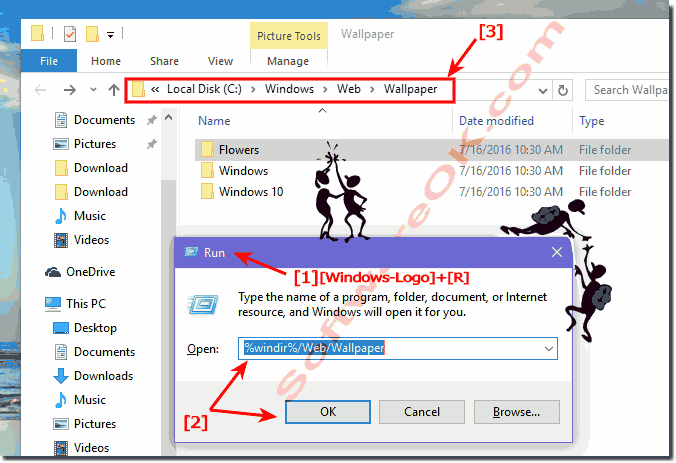 FAQ 72: Updated on: 4 November 2019 21:19