The solution is really easy to
set the PDF page size

, LETTER, DIN-A4, LEGAL, FOOLSCAP!

Content:




1.) The output size of the PDF file!
If you want to change the page size of the output file in Win Scan to PDF:



Menu ► Options ► PDF Page size





and select the desired PDF page format :-)

 

(Image-1) change PDF output page size!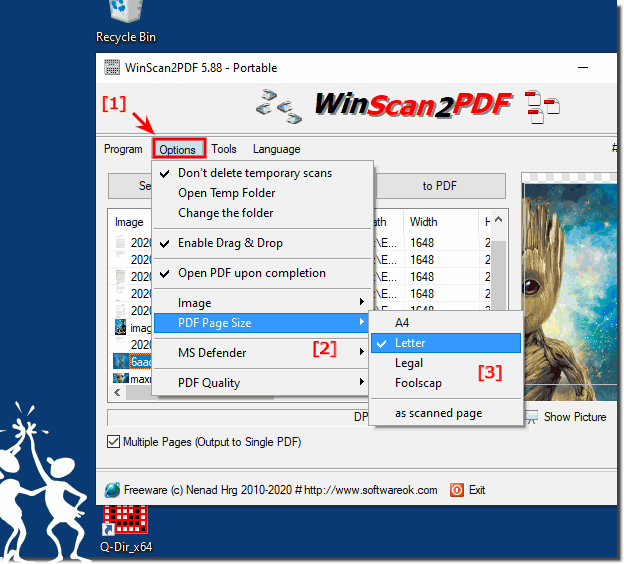 2.) The cropping of the image on the page size!
Many old scanners, do not have the Din A4 range scan and it is difficult to reach the scan area, or page size of the PDF to DIN A4, this problem can be fixed in WinScan2PDF with the following settings
Menu ► Options ► PDF ► change to A4
This is, then the page size of the output PDF file.
and: Menu ► Options ► Picture ► Crop to the page 
Now the excess area is cut off and the PDF comes as a clean DIN A4 format. 
(Image-2) PDF perfekt cropped output page size!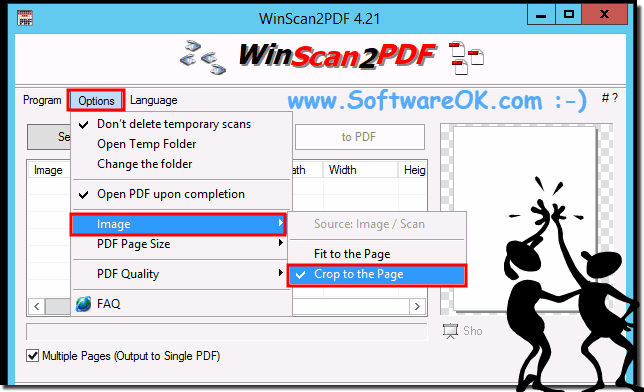 About the PDF printout:


If you want to print a PDF document that you have created with the freeware under Windows, it is absolutely possible to print this PDF document on a paper format other than the standard A4 or 8.5 x 11 Letter format with which you work eg in Word under Windows!



Top-user questions:  
Win Scan 2 PDF User-1:   
I'm using the great win scan to pdf on Windows 10 Professional. When I save a document as a PDF file, the PDF document is automatically saved in DIN A4. In fact, it also opens and shows with Adobe PDF Reader. Now I'm wondering how to set other page sizes of the PDF file. Or so that it can be tailored to the PDF page, I have not found a solution to this WinScan2PDF problem and can not figure out how to adapt WinScan2PDF the newly created PDF document to the page format?  
Win Scan 2 PDF User 2:   
I create some Din A4 PDF files and that again and again to have to clean on A4. After the update I downloaded the new version and then the pdf was automatically created in the A4 one fitting adjustment to A4 in Adobe Reader and it does not look good. 

Change PDF output page size on: Windows 11, 10 , 8.1, 8, 7: Pro, Home, Enterprise, Basic, Premium, Professional, Starter, Ultimate, Windows-Server 2019, 2016, 2012 
FAQ 10: Updated on: 31 May 2022 06:44