Windows Accessibility, start, set up with many interesting options that might come in handy for MS Windows OS users!



Contents:



1.) Open the accessibility tools on Windows 11, 10, .. quickly!
1. Start the Control Panel on Windows   << as described here 

2. In the Control Panel F3 key and "Accessibility" as a search term

3. Now simply click on the text: "Show current accessibility settings"

4. You can already view all settings and adapt, activate, ...

Here you will find, among other things,  The Windows screen magnifier , The Windows speech output for the hearing impaired , The Windows on-screen keyboard , Windows and higher contrast  , ... etc. 




(Image-1) Windows accessibility, start, set up!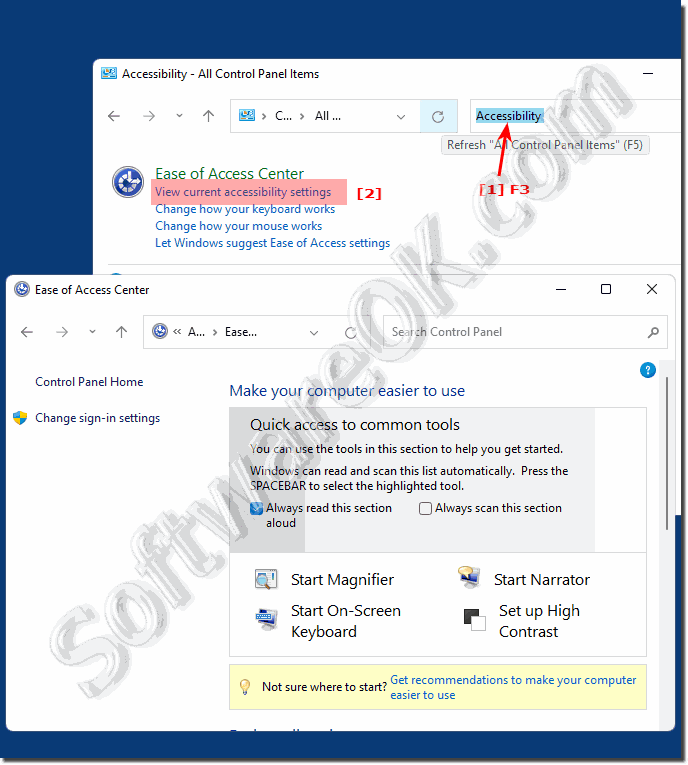 2.) What are the accessibility tools good for, do I need something like that at all?

The accessibility applications available in Microsoft Windows were primarily developed to help users who have difficulty using a computer due to a physical illness or disability, but there are many interesting applications here that can also be used by standard Windows users might prove helpful. To possibly use Windows faster, more practically, differently, ...!



3.) Further tips for better operation of the MS Windows operating system!

Ease of use is very important not only on Microsoft desktop and server operating systems, but also on tablets and other mobile devices equipped with Windows operating systems. Here are other links on this topic that might help you!








FAQ 24: Updated on: 6 July 2022 07:12