You can easily find the Send To folder in Windows 10/11, this example is also suitable for other Microsoft Windows OS.
1.) Expand the Send to Explorer menu!
1. Open the Send to folder using the MS Explorer or Windows Run Execute command!

2. Enter the command:  

shell:SendTo

 or in the Explorer address bar

The alternative command is: %AppData%\Microsoft\Windows\SendTo

to open the -Send To- folder in Windows 10/11. (... see Image-1) 

You can now remove commands or add new links, for example using drag and drop, or create a new link wizard.

Tip:► Desktop shortcut in Windows 10 / 11 for a program




(Image-1) Send To folder in Windows 10!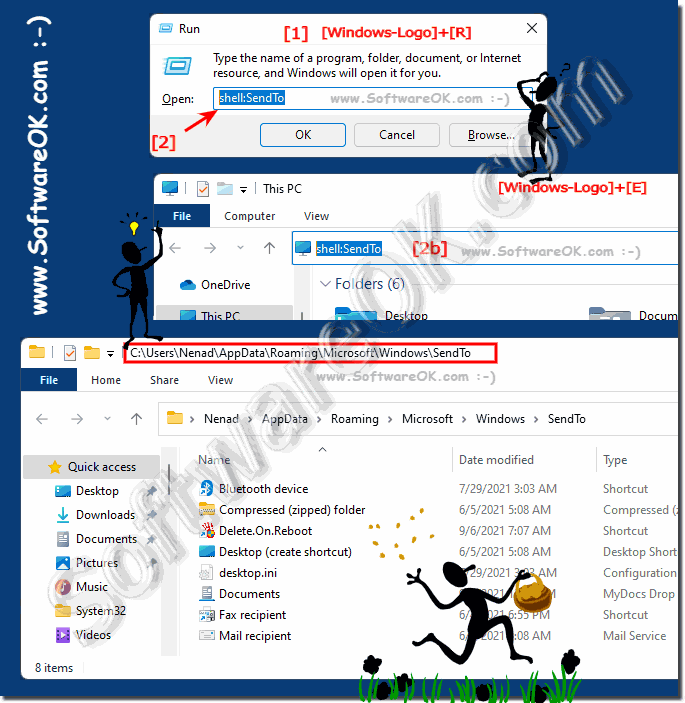 In Windows 10 you can use the context menu entry "Send to" to send files to certain programs, such as the e-mail program. However, the selectable programs and shortcuts are fixed like for example 
the location of an Program in Windows-10
. This FAQ show you how to open this Folder on all Windows OS to delete menu entries and you can add your own programs and shortcuts to the Send To menu via
Drag and Drop
 like the example 
create desktop shortcut in Windows 10 for a program
.
This example of finding and opening the Send To folder is suitable for: Windows 11, 10 Pro, Enterprise, Home, Windows 8.1, Windows 8, Windows-Server 2019, 2016, 2012, Windows 7 Basic, Professional, Starter, Ultimate

2.) What can I enter for program under Send To under Windows 11 and 10!

All programs that accept files or folders as program parameters, the Send To menu transfers the file or folder paths to the program that was added as a link in the Send To menu, very useful because you can expand the MS File Explorer and can therefore use other programs directly!



3.) What should I watch out for in relation to the Send To menu?
With more than 20 Send To shortcuts, this can get confusing, but it does not have any major impact on MS-Date-Explorer, there is a rumor that the system can become a bit sluggish. With the Send-To folder entries, which are practical, fast and convenient, it is too good to want to do without them. 
In ordinary use of the Send To folder entries but you can work much faster and the Send To folder entries give the Windows 10 Explorer own
personalized touch
, even when there is no 
touch screen
FAQ 186: Updated on: 1 May 2022 07:26