Even in Windows File Explorer in the new Windows 10 you can activate the status bar to see some file information!




Please do not expect any miracles from the File Explorer status bar, this has been reduced to a minimum of information in order to see it as before, for more info in the status bar you can use alternatives such as the 

Quad Explorer

. But you can enable Details Panel to see more file and folder information. This example is also for MS Server 2012 and 2016!




See also: ►The Quad Explorer  ► Home Folder in Windows 10 ► full path in the explorer title bar 

1.) Enable the status bar in the File-Explorer!
Please open through the Windows 10 Control Panel the Folder Options which are now called File Explorer Options.
(... see Image-2)

Or, please start the MS-Explorer with the key combination Windows + E and click on the View tab, you'll find the Folder Options (... see Image-1 Arrow 1 and 2)

In the Folder Options, please click on the View tab (... see Image-1 Arrow-3)  and set the corresponding check mark in the Options: Show Statusbar (... see Image-1 Arrow-4)

For more information from the file, please use the

Details Pane

(... see Image-1 Arrow 5 ans 6)



(Image-1) File Details in Windows 10 Explorer and Status-Bar!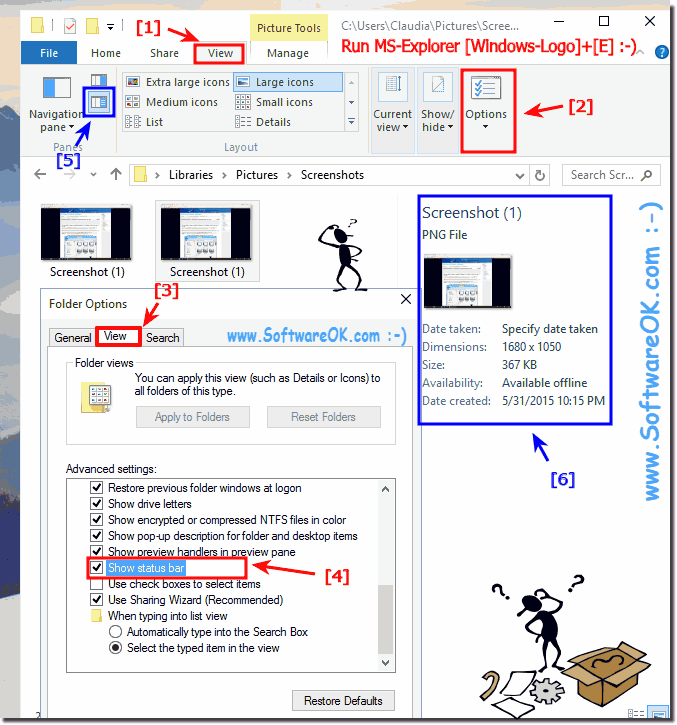 Advanced settings for files and folders!
Files and Folders
Always show icons, never thumbnails
Always show menus
Display file icon on thumbnails
Display file size information in folder tips
Display the full path in the title bar
Hidden files and folders
Don't show hidden files, folders, or drives
Show hidden files, folders, and drives
Hide empty drives
Hide extensions for known file types
Hide folder merge conflicts
Hide protected operating system files (Recommended)
Launch folder windows in a separate process
Restore previous folder windows at logon
Show drive letters
Show encrypted or compressed NTFS files in color
Show pop-up description for folder and desktop items
Show preview handlers in preview pane
Show status bar
Show sync provider notifications
Use check boxes to select items
Use Sharing Wizard (Recommended)
When typing into list view
Automatically type into the Search Box
Select the typed item in the view
Navigation pane
Always show availability status
Expand to open folder
Show all folders
Show libraries


(Image-2) Windows-10 Status-Bar - File Explorer!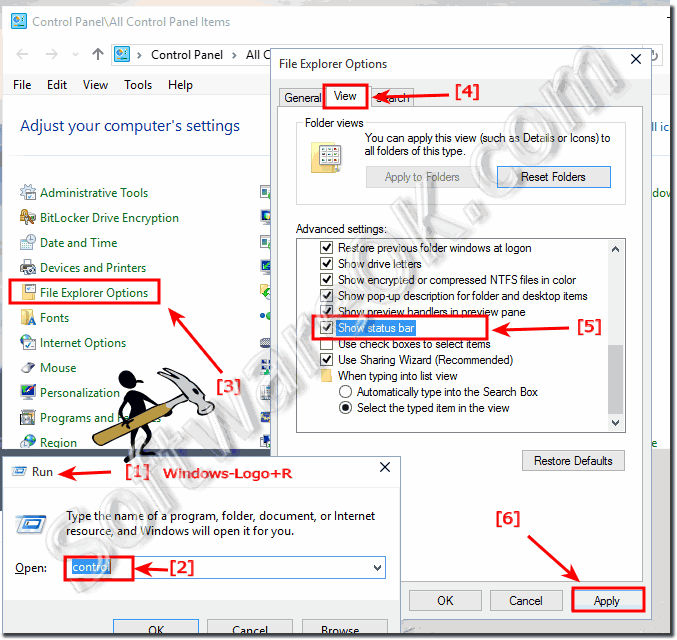 2.) Does Internet Explorer have a status bar?
Please start the Internet-Explorer use the Keyboard Keys Alt+V and GoTo Tolbars Sub-Menu and enable or disable the Internet-Explorer Status-Bar, Menu bar, Command bar, and / or Favorites bar! (... see Image-3)

See also: ► navigation click sound



(Image-3) Windows 10 Internet-Explorer Status-Bar!


FAQ 69: Updated on: June 20th 2018 09:24