To see in Windows 10 or 11 when running on the
x32 (x86) or x64

installed version of MS Windows OS, It´s easy to find out!

PS: Windows 11 is only available as 64 bit (x64) and no official x32 / 32 bit version is available!



1.) Find out if is Windows 10 x64 or x32 / 64 or 32 Bit!
Please start eg ope the 

► Windows-Logo+X ► ControlPanel ► System

 in Windows-10!

or direct: 

► Windows-Logo+X ► System



Tip: 

Windows-Logo+X

  is the keyboard shortcut 

and also: 
Keyboard shortcut [Win-Logo]+[R], then easy type the command control.exe /name Microsoft.System and confirm the command with [ENTER] 

And now, you can see in the ControlPanel/System if it is the Windows-10 x32(x86) x32/x86 (32 bit) or x64 (32-bit) Edition! (... see Image-1 Arrow-1)




(Image-1) Windows 10 x32 or x64 on the PC?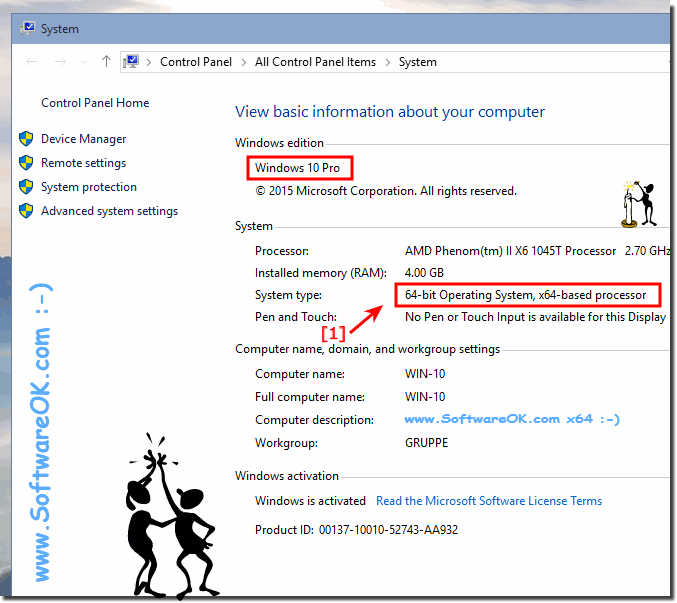 The links in the left pane provide access to additional Windows-10 system settings.

Use Device Manager to change settings and update drivers on Windows-10.

Windows-10 Remote settings to change settings for Remote Desktop, which you can use to connect from Windows-10 to a remote computer, and Remote Assistance, which you can use to invite someone to connect to your computer to help with a Windows-10 PC problem.

System protection to manage Windows-10 settings that automatically create the restore points that System Restore uses to restore your Windows-10 computer's system settings. You can turn System Protection on or off for the disks on your Windows 10 PC, and you can create restore points manually.

Advanced system settings in Windows 10 for access and advanced performance, user profile, and system startup settings, including Data Execution Prevention, which monitors programs and reports possible security attacks. You can also change your Windows-10 virtual memory settings.




2.) Difference between x32 and x86 Windows?
x32 and x86 is the same!
 



Tipp! From here you also have a quick access to (left site of System Window):
1. Windows-10 Device Manager.
2. Remote settings on Windows-10.
3. System protection for Windows 10.
4. Advanced system settings in Windows-10. 
... (... see Image-1)



3.) ... New Solution for Windows 10 from 2020!



1. Windows + X

2. System

That is it

(... see Image-2 Point 1 to 3)



(Image-2) Windows 10 x64 or x32!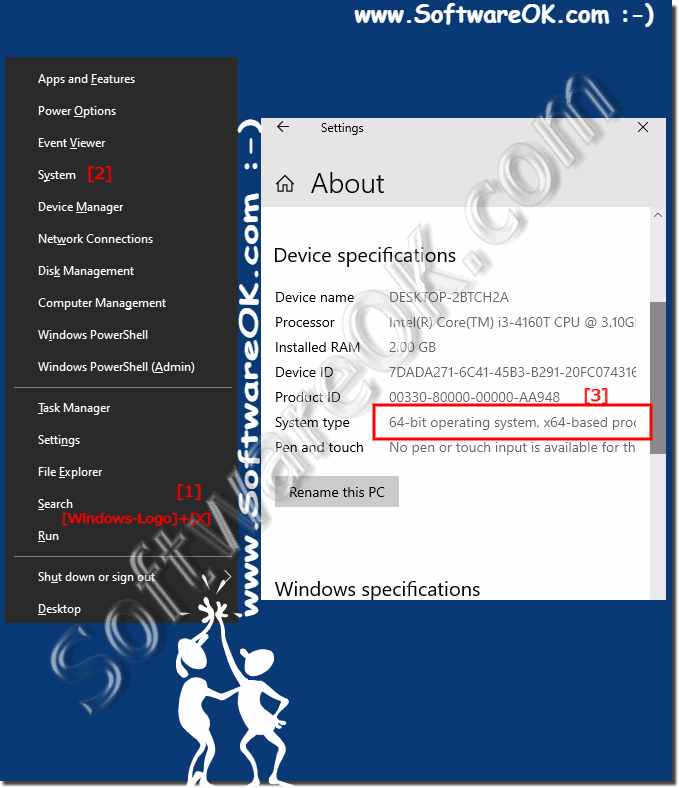 FAQ 37: Updated on: 25 August 2023 12:08