With the
Display Color Calibration

on Windows 10 laptops and notebooks, it is pretty easy to change the color settings to improve the readability on the screen!

This solution is also valid for Windows 8.1 and 7, Server 2016 and 2012, the Display Color Calibration on Windows improves your display color via adjust the different color settings. Not all monitors have the same color capabilities, the Color Calibration depend on your monitor's LCD-, TFT-, LED- display and its possibilities.


1.) Start Display Color Calibration on all Windows OS!
Please start Display Color Calibration dialog via Run-Command Dialog [Windows + R]
and the easy enter the command: DCCW (... see Image-1 Arrow-1)

In Window "Display Color Calibration" please click the "Next" Button, to start the calibration. 
(... see Image-2 Arrow-1)

And now, just follow the onscreen instructions, make sure that your display is set to monitors native screen resolution, to improve the accuracy of the resulting calibration.



(Image-1) Windows 10 - Run Display Color Calibration!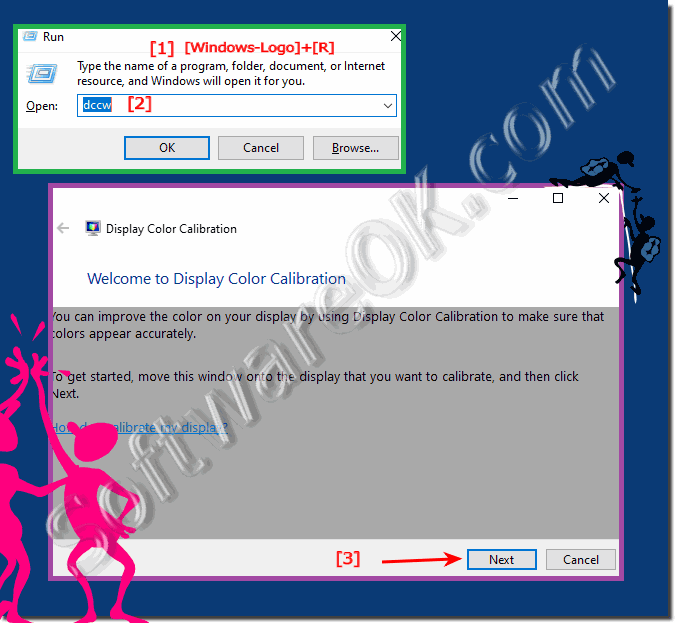 To get started and set basic color settings for your display on Windows-10, press the menu button for your display. The menu button, usually located in front of your monitor, opens the on-screen display menu.

To determine which button opens the on-screen display menu, see the documentation for your display.

If you have a display calibration device for windows or windows server that came with other software, consider using the color measurement device with the accompanying software instead of Display Color Calibration. Using the calibration device on windows 10 with the accompanying calibration software that often comes with it can help you get the best color on your windows 10 display. In general, using a color measurement instrument to calibrate your display will result in a better calibration compared to the results of doing a visual calibration on windows 10 . 



(Image-1) Color Calibration on Windows 10!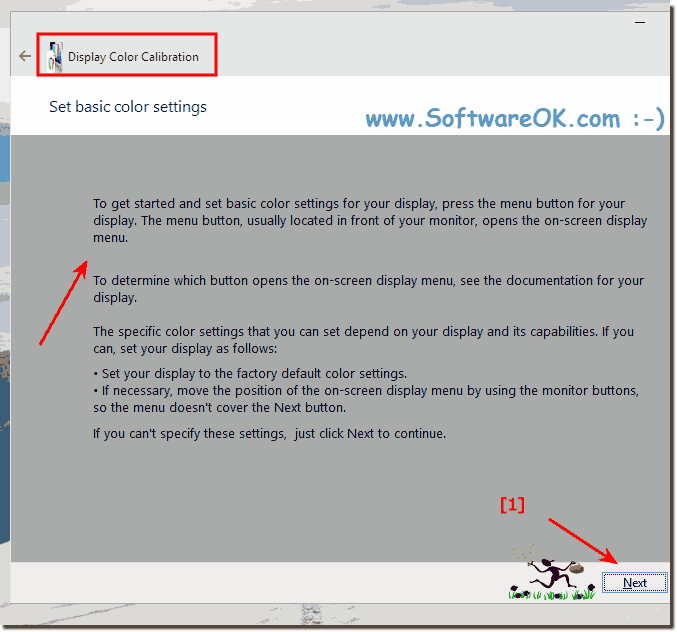 2.) Windows will not save screen calibrations?
The Windows 10 must be activated to save the color calibrations





Windows-10 Display Color Calibration improves your display color by enabling you to change different color settings. After you adjust the different color settings using Display Color Calibration, you will have a new calibration that contains your new color settings. The new calibration will be associated with your Windows-10 screen display and used by color-managed programs. 

 

The Windows color settings that you can change, as well as how you change those color settings, depend on your monitor's display and its capabilities. Not all monitors have the same color capabilities and settings, so you might not be able to change all the different color settings when using Display Color Calibration on Windows. 

 


This example for monitor color calibration is also suitable for Windows 10 (Redstone 4 & 5) Pro, Enterprise, Home, Windows 8.1, Windows 8, Windows-Server 2016, 2012, 2008, Windows 7 Basic, Professional, Starter, Ultimate to ease change ergo customize display color settings!

FAQ 55: Updated on: 8 January 2019 21:06