Here is the solution, how to display the dialog for confirmation of the deletion process in the new Windows 10 or activate or deactivate!
This solution is also suitable for Windows 8.1, 7, Server 2012 and 2016 as well as the latest Windows 10 build on your mobile tablet or Surface Pro / GO.
1.) Delete procedure Change setting via the recycle bin!

1. Please just use the command: shell:RecycleBinFolder , which can conveniently open via the Windows 10 Run dialog ergo Shortcut key [Windows + R] (... see Image-1 Point 1 and 2)

2. Now you can quite easily by a mouse right-click on a vacancy in the Explorer view, the properties of the Windows 10 recycle bin! (... see Image-1 Point 3 and 4)

3. And activate the option "Display dialogue to confirm deletion" (... see Image-1 Point 5 and 6)




Hot Tip:

At this point you can also change the user-defined size of the recycle bin set for all drives. Or with the option Delete files immediately (do not move to trash) enable deletion without trash, which is not very recommendable.






(Image-1) Recycle-Bin enable Confirm-Dialog in Windows 10!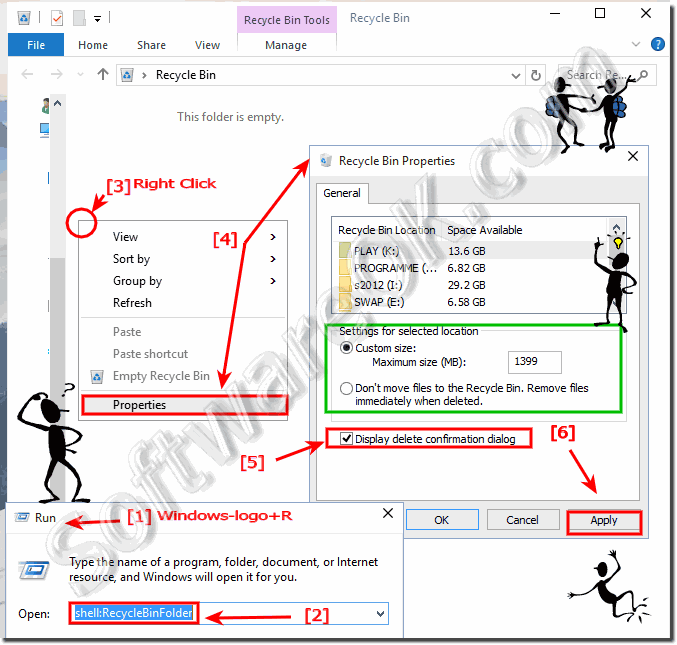 2.) Set the "Delete Confirmation" in Windows Explorer!

Please start the MS-Explorer, for example with the key combination Windows Logo + E and select the menu item Start. Select a folder or file in the File Explorer view. Click on the Delete check box and activate the option "Show Recycle Confirmation" 

(... see picture-2 items 1 to 3)



(Image-2) Recycle Confirm the deletion process!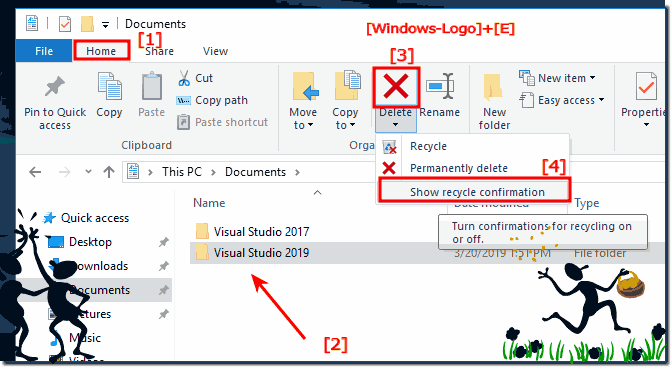 3.) Why are files not always moved to the trash?
If there is not enough free space on the hard disk, the data is resolved directly, as well as if the files are very large and cannot be moved to the recycle bin. Here are points you can do to change this behavior.



Info:

When a user deletes a file, it is usually moved to the Recycle Bin so that it can restore the file later if needed, which affects the following operating systems: Windows 11, 10 Pro, Enterprise, Home, Windows 8.1, Windows 8, Windows-Server 2019, 2016, 2012, Windows 7 Basic, Professional, Starter, Ultimate.

To permanently remove files from your PC and free the disk space used by the files, you must delete the files from the Recycle Bin. You can delete individual files from the Recycle Bin or empty the entire Recycle Bin at the same time. 



FAQ 66: Updated on: 22 September 2022 05:47