It's easy to improve horizontal scrolling with the mouse wheel as an alternative on Windows 11, 10, ...!
Many users have specialized in precise scrolling with a scroll wheel, which in some cases enables a great scrolling experience, especially with browsers on the Internet, when navigating, whether online, or when managing the files of various 
multiple window explorers
, and thus simplifies it it is not just reading content on various internet platforms, but also in
managing the data and marking
of
private holiday photos
and scrolling is an important part!
1.) But if the professional scroll mouse is broken
It takes a while for the
professional scroll mouse to
be delivered by Amazon!
Why not try the ►►
Everywhere mouse wheel tool!
(
... see Image-1 Point 1 and 2
) 
(Image-1) Improve horizontal scrolling with the mouse wheel on Windows 11, 10, ...!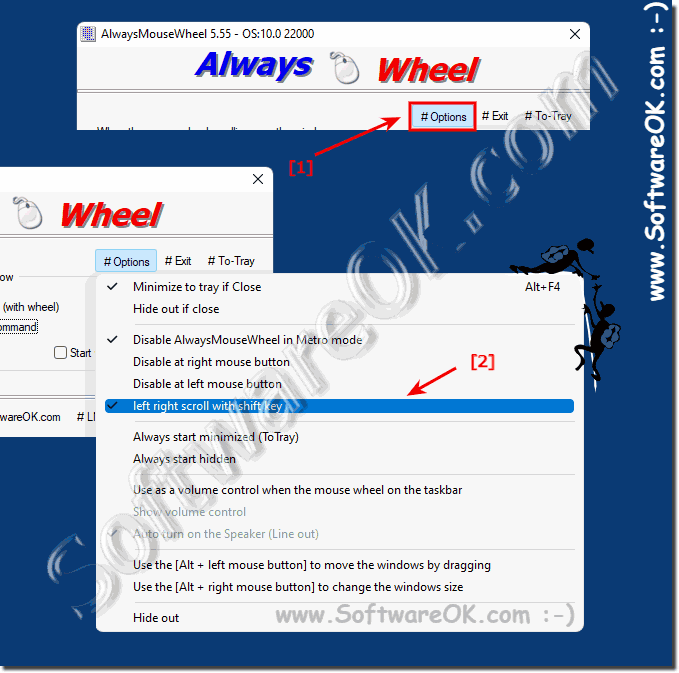 2.) What should I watch out for when scrolling horizontally with the mouse wheel tool?
Not all programs are receptive, but many are. The attractiveness of horizontal scrolling
is the dominant standard; vertical scrolling is used for moving through very long pages with a lot of content on the Internet pages. With this tool you have a better scroll wheel function than the conventional mouse wheel function and it sometimes makes it much easier to scroll up and down, or to scroll left and right, even when the window is not in the foreground!