Through
different snow performances

, the user can decide for himself how much of the system resources should be used for the snow!




The Various Performance are available in DesktopSnowOK as of version 3.61. As you can see below, under Windows 10 shot screenshot, the CPU load through the snow is under 10% at 2000 snow flakes and the setting "Balanced". In any case, there are more snowflakes on the desktop from 3.61 with less CPU load.





Influence by the number of snowflakes!


Of course, this can also be influenced by the number of snowflakes, but this is about the new perfomance option possibility of assigning more or less importance to the desktop snow (system resources), especially when running other more or less important applications or programs under Windows.

More snow algorithms in the later versions, I am always open for suggestions for improvement in the point of desktop snow.


The digital CPU Gentle snow for all!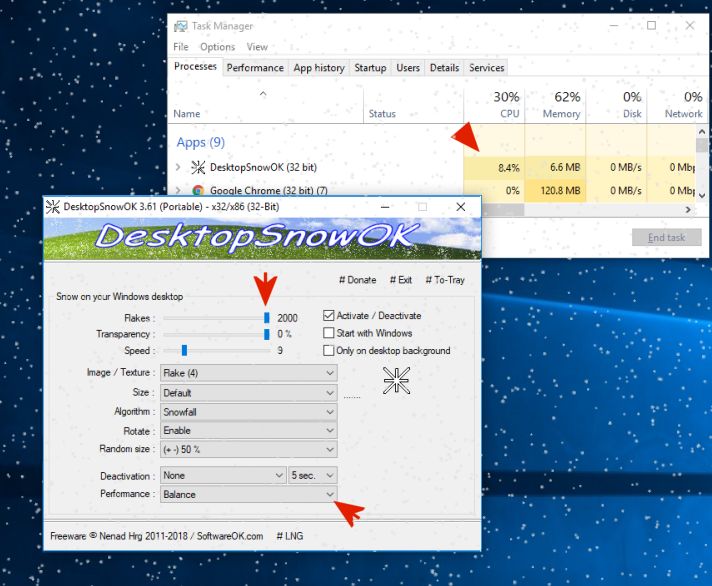 Info:
It really makes sense and beneficial to be able to decide for yourself how important the snow is to the desktop,
it is a simple yet effective tool, use it and get in touch with the snow benefits. Using this improved rendering function and the Snow Performance feature is one good solution no matter whether in the new MS Windows OS, whether it is a Windows desktop, tablet, Surface Pro / Go, or even a server operating system. at all it was tested and successfully
verified
.
FAQ 5: Updated on: 25 July 2021 10:41