A simple solution to start the Windows 11 / 10 Memory Diagnostics Tool, to detects possible problems with your computer's memory!





The solution is simple and is also suitable for Server 2019/2022 to detect any RAM, working memory errors, problems. Without resorting to third-party software for testing memory, for example, the popular tool ... QuickMemoryTestOK !

1.) The Memory Diagnostic Tool in Windows 11, 10, ...!
The full path of the Memory Diagnostic Tool is: %systemroot%\system32\mdsched.exe eg. c:\Windows\system32\mdsched.exe

Start the Windows 10 / 11 Memory Diagnostics Tool via Run-Dialog [Windows-Logo]+[R] and the command: mdsched.exe!

Select Restart Now and check for problems, the Memory Diagnostics Tool will run automatically when you restart the Windows. (... see Image-1)

See also: ► Customize the Virtual Memory in Windows 10 ► Customize Recycle Bin in Windows 10





(Image-1) Windows 10 Memory Diagnostics Tool!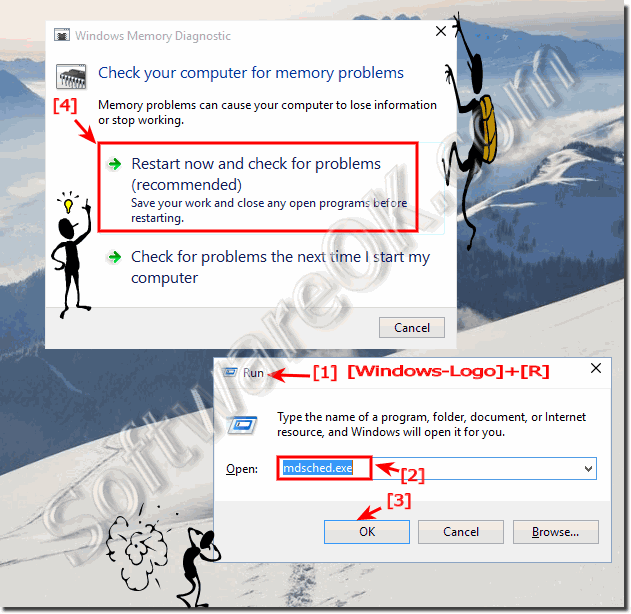 Useful info from Microsoft (c):
If you choose to
restart your Windows-10 computer
and run the tool immediately, make sure that you save your work and close all of
your running programs on Windows-10
. The Memory Diagnostics Tool will run automatically when you restart Windows. It might take several minutes for the tool to finish checking your computer's memory. Once the test is completed, Windows 10 will restart automatically. If the tool detects errors, you should contact your computer manufacturer for information about fixing them, since memory errors usually indicate a problem with the memory chips in your computer or other hardware problem.
2.) Windows 11, 10, ... and the compressed memory!
Reasonable amount of RAM!
For Windows 10 owners with sufficient RAM: If you are not using applications that require a lot of RAM, which is extremely rare on high-performance PCs, then you should not worry about the compressed memory backing up Service consumes a reasonable amount of memory.

Accessing the Windows swap file!
You can reduce the number of accesses to the Windows pagefile.sys swap file on the hard disk by storing some of the data in compressed form in RAM. In theory, everything should work fine, but in practice everything becomes a pretty boring computer with unnecessary tasks.

Anti-virus program without support for Windows 10!
Another possible reason for loading the compressed storage process is the malfunction of the antivirus checking the storage. This can happen especially if you install an antivirus program without support for Windows 10!


3.) Finding the other cause of the memory problem on Windows 11, 10, ..!





Finally!

The emergence of memory problems is very rare under Windows 10, but as you can see, it is quite easy to recognize them under Windows. As you can see in the Windows 10 shot screenshot above, however, you can easily apply this example as a solution to memory diagnostics easily on other versions of Microsoft's Windows operating systems. The memory diagnostics also works on a Windows desktop computer as well as on the Tablet PC, Surface Pro / Go, or even on a server operating system. It is a simple yet effective memory diagnostic tool and really makes good sense to use this feature, it has been tested on different MS OS and successfully 

verified

.





 

1. Start ►►  the alternative memory test tool on Windows 11

2. It is most effective if you set it to infinity 

3. And test the Windows memory / RAM without detours

(... see Image-2)




(Image-2) Simply test the RAM on all Windows with this tool!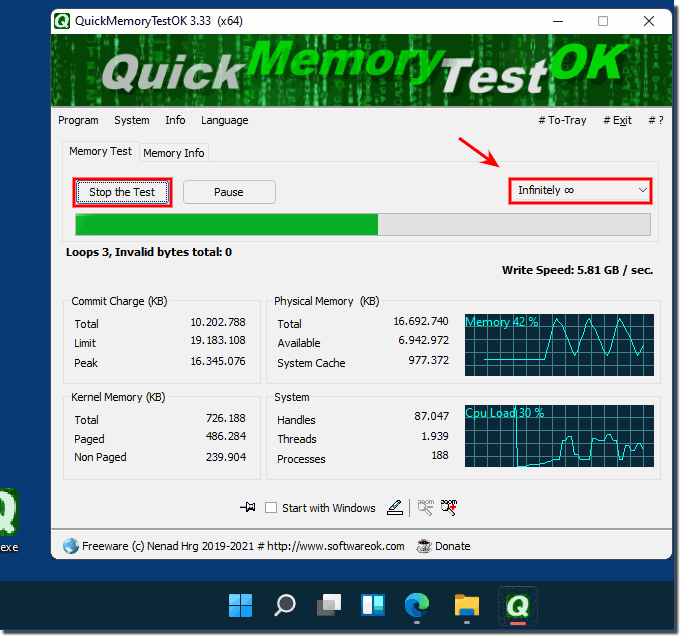 FAQ 95: Updated on: 25 August 2023 12:24