You can also use the stopwatch as a teacher for classwork, because it is a freeware stop clock for Windows 11, 10, ... etc.! !
For example using the stop clock, if the classwork assignment lasts 45 minutes, you can simply use
start parameters in the stop clock
. This screenshot has been made on Windows 10, you can use this stop-watch parameter example easily on earlier versions of Microsoft's Windows operating systems, whether it's a Windows desktop, tablet, Surface Pro / Go, or even a server operating system.
Example of a stop-clock desktop shortcut with a 45 minute countdown!



1. Create a simple windows desktop shortcut to the stop clock on the desktop

2. Right-click on the properties of the desktop shortcut

3. and add the "countdown_min=45" parameter

4. Optionally, the newly created stop clock shortcut easy rename  to "45 Min CD"



(Image-1) Use the stopwatch as a classwork countdown timer!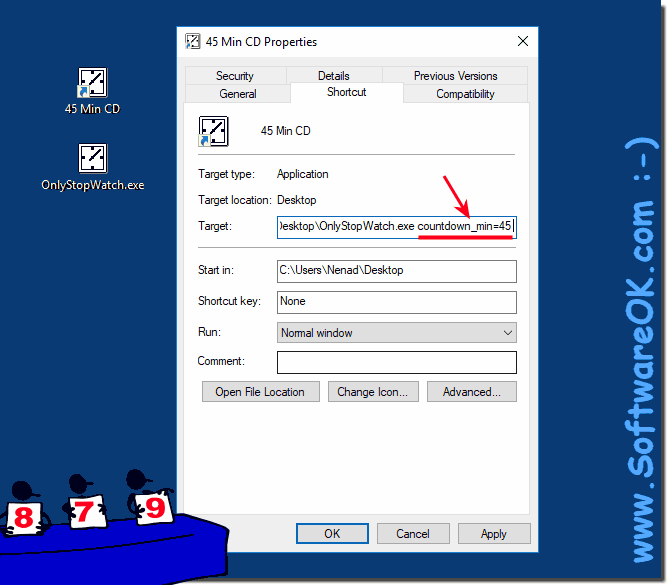 As you can see in the Windows 10 shot screenshot, it really makes sense to use this school-grade-countdown a simple program, but an effective tool to use the stop-watch as a countdown timer for classwork's! 



FAQ 7: Updated on: 24 July 2021 09:23