Mapping a network drive under Windows 11, 10, ... is easy, so that frequently used network paths under Windows 11 can be used like a drive in the file explorer!
Not only 
Windows administrators
, but also users with the necessary rights, can quickly connect to a NAS, FTP server, or other network shares in order to be able to access a folder in the network as a full-fledged drive, which is very practical! Because it can be treated like a local drive. And you save time! 
1.) Map the network drive via the Windows 11 File Explorer menu!
1. As always, start Windows Explorer Windows + E 

2. In the file explorer window, click on the three dots [...] button in the toolbar

3. And then select "Map network drive" in the menu that appears .

4. In the "Map network drive" window, click  on the "Drive" selection field.

5. Select a drive letter to assign to the network drive.
(This can be any letter, depending on your personal preference)

6. Enter  the network path in the "Folder" field
(PS: If you do not remember it, click on "Browse",

(... see Image-1 Point 1 to 6) 




If you want Windows to reconnect to this drive every time you log on, select the check box next to "Reconnect at sigb-in" . And if you'd like to connect using different credentials associated with your current Windows account, check "Connect using different credentials." When you're done, just click "Finish" .






(Image-1) Easy Map a network drive under Windows 11!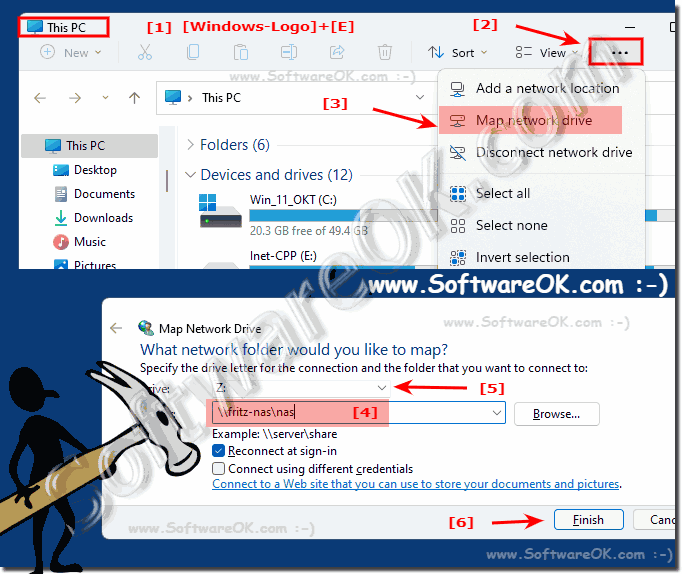 2.) Connect the network drive directly via the file explorer!

If you have opened the network path just in File Explorer, simply right-click on the Network folder and "Show advanced options" the "Map Network Drive" 

(... see Image-2 Point 1 to 3) 




(Image-2) Directly map network drive under Windows 11!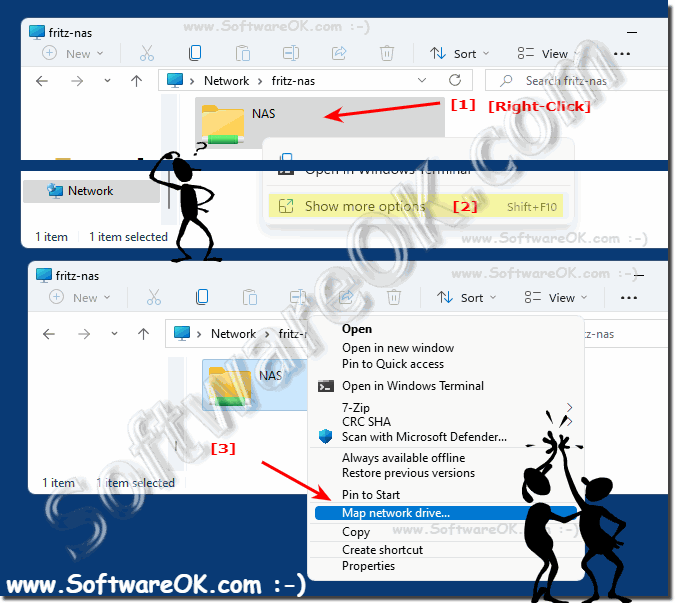 3.) Execute command to map network drives!

1. Open the Run window with Windows + R 

2. To connect the command Rundll32.exe shell32.dll, SHHelpShortcuts_RunDLL Connect

(... see Image-3) 
(Image-3) Connect network drive under Windows 11 via the Run dialog!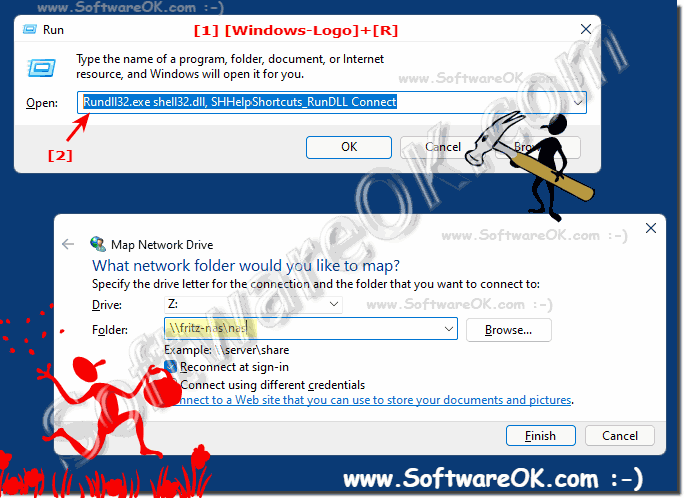 4.) Connect or disconnect network drives via the command prompt!
If you like to connect or disconnect network drives via command lines, you can use the very popular net use command.

To map a network path as a network drive, use: 
net use R: \\fritz-nas\nas





5.) What should I watch out for when connecting / disconnecting the network drives! 
There is nothing great to consider here, as long as drive letters AZ are available, it is possible so that the network drive does not disappear after a restart or update:  Do not forget "Reconnect at login" . Regardless of whether you connect it in Windows Explorer or Q-Dir Quad Explorer .  

(... see Image-4 Point 1 to 3) 




(Image-2) Connect to the NAS network drive quickly!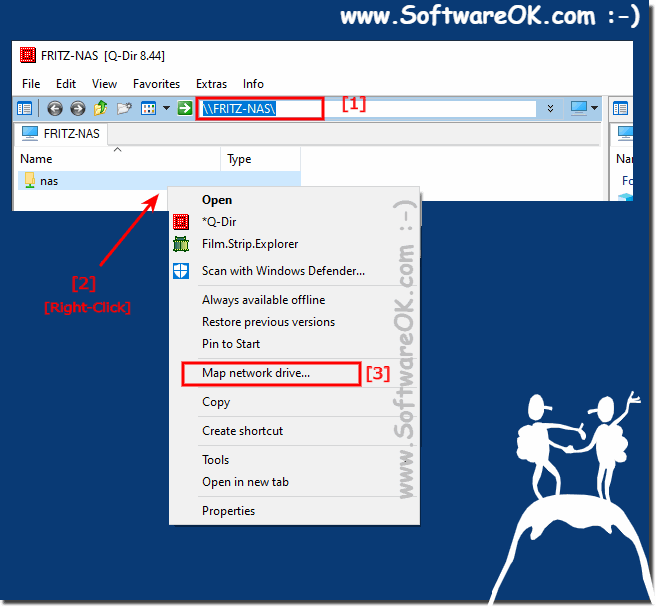 6.) More tips on network, drives and Co. under Windows 11!
FAQ 163: Updated on: 10 September 2022 13:10