Even in Windows 11, fonts give a personal touch when writing with special font styles, so your own fonts are important!
It's easy to install or uninstall fonts on Windows 11, in addition to the standard fonts, you can easily install new fonts or remove fonts you don't need. Here you can find out how you can do it quickly without having to resort to ► 
special Windows 11 font viewers
!
Contents:
1.) Installing fonts on Windows 11!
Next, if you downloaded a font on Windows, open File Explorer and locate the font file you want to install. Double-click the font file to open it. Or right-click and simply install, or install for all users on the PC!
(
... see Image-1 Point 1 to 5
) 
(Image-1) Install / uninstall fonts under Windows 11!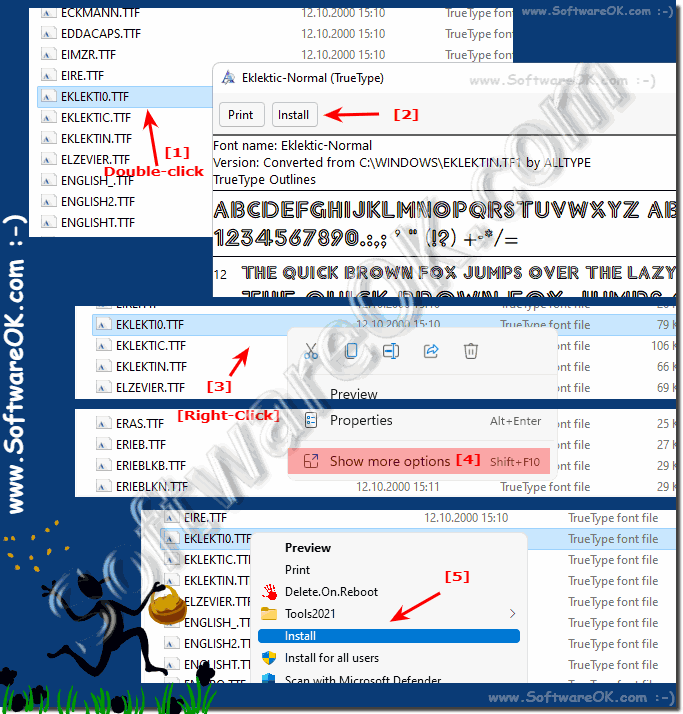 2.) The removal of already installed fonts on Windows! 
Here in great detail: ►► 
Delete, uninstall, remove, add Windows fonts?
Nothing has changed under Windows 11 either!
Or: ►►
Uninstall with FontViewOK
Tip: You can also type in the address % windir%\fonts in the address line of MS Explorer and confirm with [Enter].


(Image-2) Fonts remove, uninstall!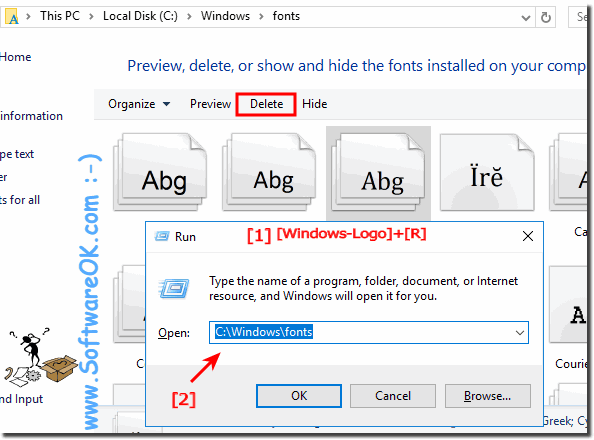 3.) Where can I find fonts for Windows 11?
To install a new font in Windows 11, you need a compatible font file. You can download free fonts from the Internet, copy them from another system, or buy them online. Windows 11 supports the formats TrueType (.ttf), OpenType (.otf), TrueType Collection (.ttc) or PostScript Type 1 (.pfb + .pfm).
4.) What should you watch out for when installing fonts?
Windows 11 lets you install as many fonts as you want. However, before you install several downloaded fonts, you should check them beforehand to see whether they suit you. Download different fonts or complete archives and...     


TIP:
If you have already downloaded FontViewOK . If not, ... download FontViewOK.

Start FontViewOK, in "Font View OK" click on the button From a folder , then simply select the directory from which the fonts should be displayed.




(Image-3) Selection field for font name in windows Fonts-View!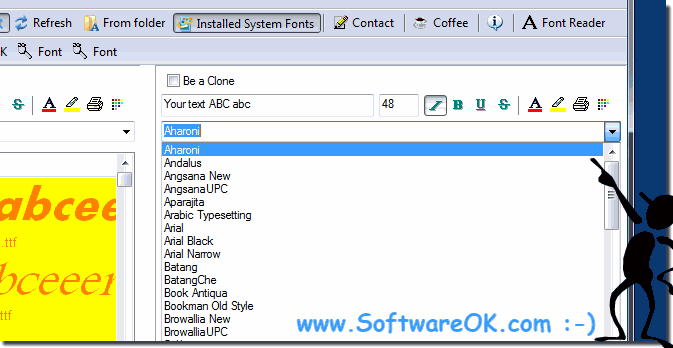 FAQ 192: Updated on: 26 August 2023 08:04