The video quality when recording videos can be improved under MS Windows 11 and 10 OS!


The video frame rate is usually preset to 30 fps (frames per second) and can be increased to 60 fps. You can also change the video quality from medium to high and thus the bit rate or megabits per second!


Contents:




1.) Directly to the video recording settings
1. Use the shortcut Windows + R 

2. In the Run dialog, start the command: ms-settings:gaming-gamedvr

3. Scroll to Video Quality on the right side and set it to High

(... see Image-1 Point 1 to 4) 



(Image-1) Improve video quality when recording videos on Windows 11 and 10!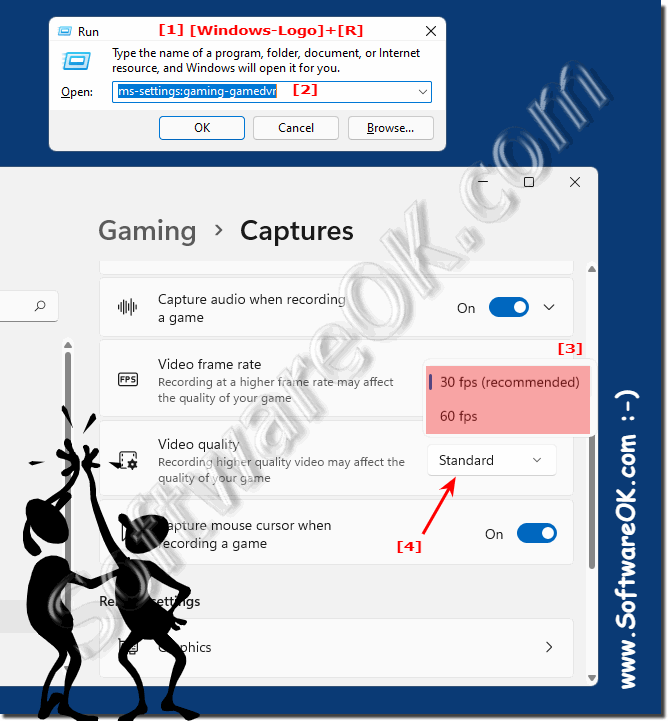 2.) What do I get from switching to higher quality?




You don't always get the desired result, because game clips are recorded with the video resolution specified in the game, or up to a maximum of 1080p, usually with the Full HD resolution 1980 x 1080. For games with a higher resolution, the recordings are scaled down in resolution .

It should be noted that high video quality and / or higher resolution puts a corresponding strain on the PC and the performance and quality depend on the system and the available hardware. Just play with the settings to use the optimal settings for your system!






https://support.microsoft.com/en-us/windows/video-quality-of-game-clips-in-windows-af8440c6-dd69-65fc-9e6d-c9872902862e


Switching to higher quality video recording brings you the following Advantages!

Better image quality: With a higher resolution and frame rate, your videos will be sharper and smoother. This is especially important when moving quickly or shooting in low light conditions.

Better color quality: Greater color depth ensures more realistic and vibrant colors.

Better sound quality: With a higher audio sample rate and bit depth, your videos will be recorded with clearer and fuller sound.

The advantages of higher video quality are particularly relevant in professional applications such as video production or marketing. But higher quality can also make sense for private purposes, for example if you want to publish your videos on a large screen or on the Internet.

Of course, higher video quality also comes with some disadvantages!

Larger file sizes: High quality videos are typically larger than low quality videos. This can lead to longer loading times and less storage space.

Higher hardware requirements: In order to record and playback videos in high quality, you need suitable hardware. This includes a camera with a high-quality sensor, a processor with sufficient power and a monitor or television with high resolution.

Whether switching to higher video quality is worthwhile for you depends on your individual requirements and options. If you value good picture and sound quality and want to publish your videos on a big screen or on the Internet, for example, higher quality is a good investment.




However, it's important to note that moving to higher quality may also involve higher costs for equipment, storage, and possibly video editing. Additionally, higher quality videos require more bandwidth and storage space for storage and uploading, which should be taken into account when publishing and distributing.

Choosing the optimal quality depends on your goals, budget and the needs of your project. However, for professional productions and high-quality presentations, it often makes sense to switch to a higher quality.





FAQ 194: Updated on: 14 October 2023 16:41