To increase the game performance, it is easy to adjust the game mode under Windows 11 and add desktop programs, games or APPs!


The new Windows 11 gets a new and improved game mode that allows you to increase your gaming performance. So if you like to play games on your laptop or desktop, you can activate / deactivate and use the game mode in Windows 11 at any time. 


Content:


1.) Activate the gaming mode under Windows 11!

1. Press Windows + i to open Windows Settings.

2. Switch to Gaming  ► Game mode

3. Activate game mode in Windows 11 

4. Click on Graphics

(... see Image-1 Point 1  to 5)

Continue with: ► Add desktop games if it is not in the list 



Info:
The so-called gaming mode was introduced in Windows 10. This reduces the performance for the processes running in the background to free up the CPU and GPU for the games. With Windows 11, Microsoft has further improved the game mode in order to limit the background activities even better and to allocate more computer resources to the game.






(Image-1) Activate game mode under Windows 11!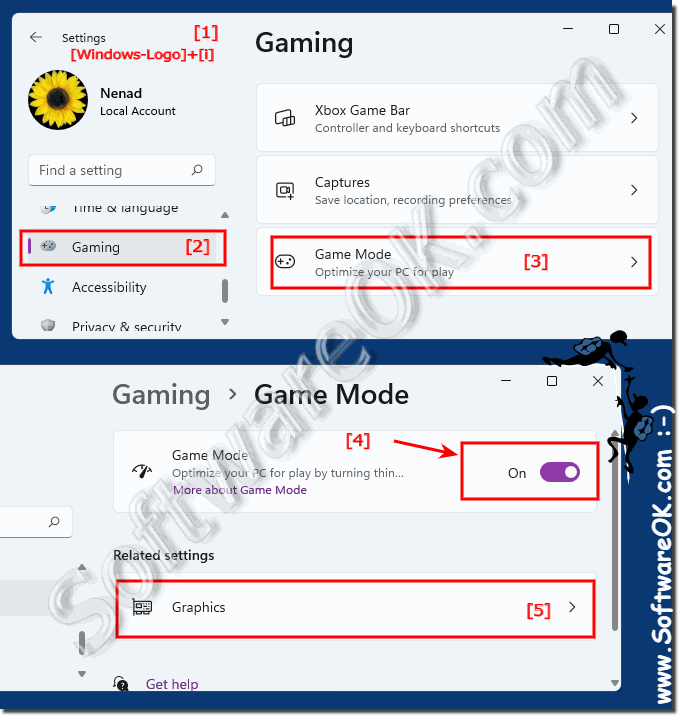 2.) Other ways to increase Windows 11 game performance!
1. Add desktop games if it is not in the list

2. Press the button Browse

3. Add via the file path (in this case the freeware game ► CoronaKO )
Tip: ►  Storage location of a program / app in Windows Open 10/11!

4. After that, the game / application appears 

5. Click on the game itself more options open

6. "Options" at peak performance make  

(... see Image-2 Point 1 to 5)



PS:

If your Windows 11 computer has a dedicated graphics card, you can set your PC to always use

the dedicated GPU

when playing performance-hungry games . You can do this in the GPU selection menu per app, desktop program, application, ...!




(Image-2) Game mode under Windows 11 automatically at maximum performance!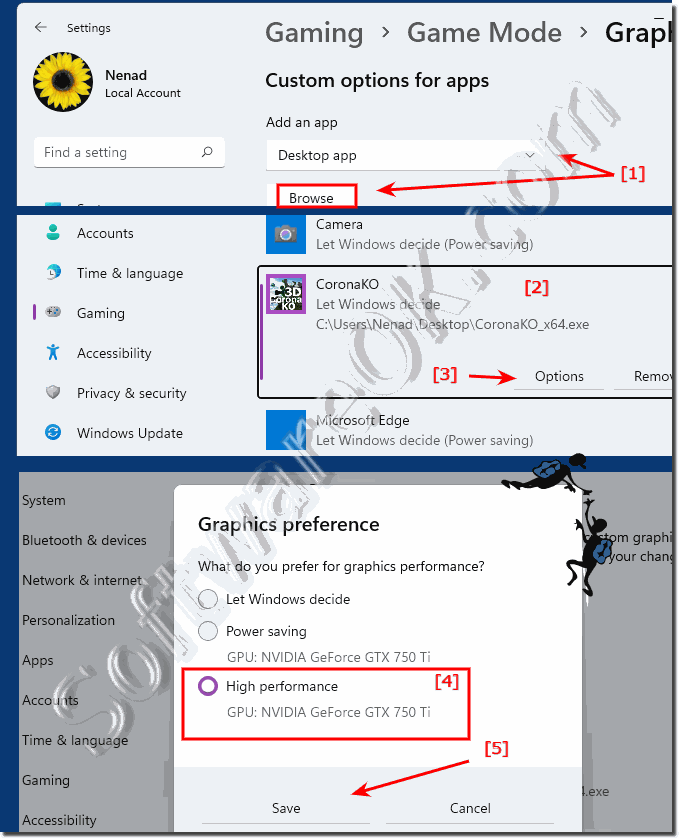 Info:

The game mode is for, when used to increase the performance of games, in case of problems if that is the case, you can simply switch it off in the game mode settings. Or you can only use the game mode for certain games where it is safe to run. PS: Game mode is only activated when Windows 11 detects that you are playing a game on your PC.



FAQ 94: Updated on: 2 April 2022 09:13