To uninstall e.g.
remove Programs and Features in Windows

7 please open the Control Panel in Win-7 !




It is very easy to Uninstall Programs and extended windows features from Windows 7, Starter, Home, Professional, and other Windows 7 OS x64 and x32, here a short example how to do this!






See also: ► Change Windows 7 Product Key!

1.) Uninstall installed Programs from Windows 7! 
In Control Panel Programs and  "Programs and Features" or use the Hot-Key [Windows+R] and enter in the address-bar ( via hotkey [ALT+D] )

the Address (Folder): Control Panel\Programs\Programs and Features

In Window Programs and Features

Select the Program via right mouse click (... see Image-1 Arrow-1 )

and click Uninstall (... see Image-1 Arrow-2 ) to uninstall the selected Program from Windows-7! 

To remove (uninstall) or ad (install) other Windows-7 features. Click the text  
"Turn Windows features on or off" (... see Image-1 Arrow-3)!




 (Image 1) Uninstall Programs and Features in Windows 7?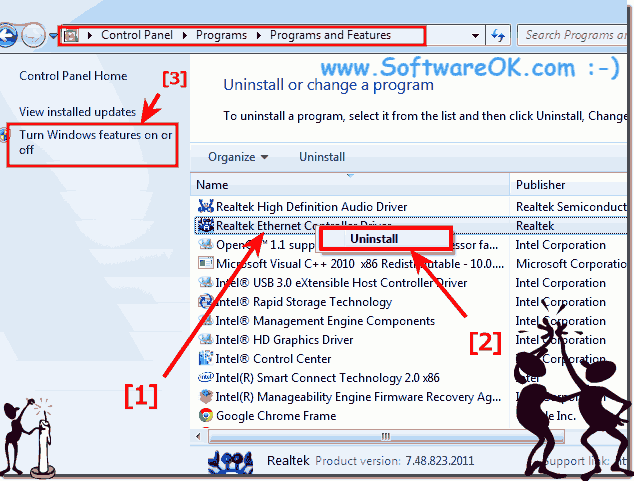 delete programs and features via Windows 7 uninstaller
2.) Disable or Enable Windows features in example IE11!
Certain other features are turned on or turned off by default, but you can turn them off if you don't use them in example Internet Explorer 11 or turned on if you need the Internet Explorer 11.

(... see Image-2)



(Image-2) Enable Disable Windows Features in Windows 7!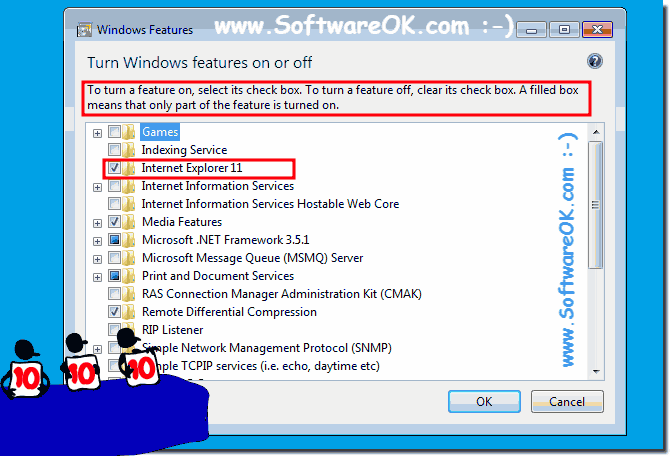 Some Windows 7 features included with Windows, such as IIS, must be turned on before you can use them.



FAQ 72: Updated on: 2 June 2022 19:30