There are several ways to open
the computer management console

in Windows 7 (to call, to find). Here are 4 solutions:






1.) Start computer management via the Control Panel in Windows 7!
»

"Start"
» »

"Control-Panel"
» » »

"Administrative-Tools" and then
» » » »

"Computer-Managmend"
(IMG-4)
2.) Open the computer management via MS Windows-7 Run-Dialog!
Press the keyboard shortcut [Windows-logo] + [R], this opens the window 7 run-dialog.

Then enter the command compmgmt.msc and confirm this with enter.



(Image-1) Computer Management via MS Windows-7 Run-Dialog!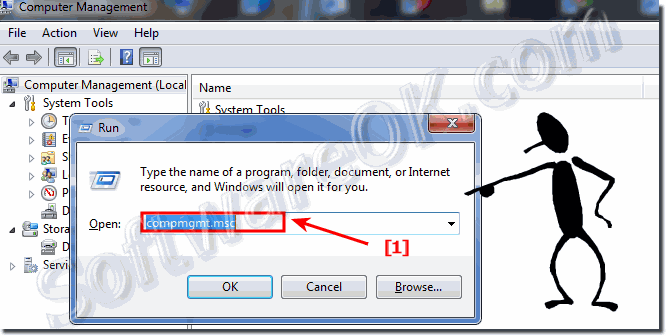 3.) Start via start menu search the computer management on the Windows 7!
Click on the Windows 7 start button "start" Icon, or press the [Windows+Logo] key, type in the input box compmgmt.msc and press enter (confirm). (... see Image-2 Arrow-1)



(Image-2) Computer Management in Windows-7 via start search!


4.) Start the computer management over the address bar in Win 7 MS-Explorer!
Please start the MS-Explorer, for Example via Keyboard Shortcut  [Windows-Logo] + [E] and enter in the Addressbar [F4] the address (Text) compmgmt.msc ! And click [ENTER]!



(Image-3) Open Computer Management via MS-Explorer!


(Image-4) The Computer Management in Windows-7!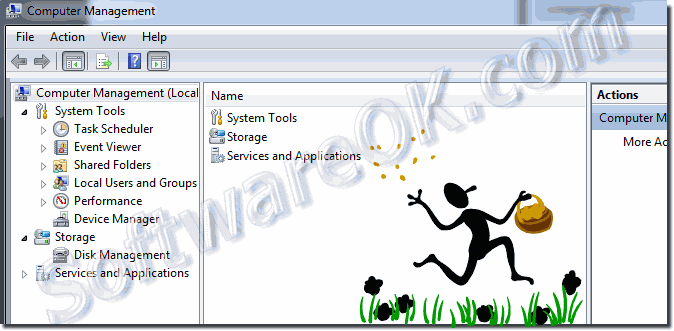 FAQ 98: Updated on: 2 June 2022 19:08