You can open and run the 
Windows-8 WordPad

whit different ways, here are two ways how you can find and start  the Windows 8 and 8.1 WordPad.




Here are simple ways for this problem, you can find the WordPad and get started quickly, whether you're working on your desktop PC or tablet running on Windows 8.1 or 10, or creating a shortcut on the desktop. 





Content / Solution / Examples:



Solution 1 for MS Word Pad!



Pleas press the Hot-Key  [Windows+R] and enter the Command wordpad or wordpad.exe
(... see Image-1 Arrow-1) and  Windows 8 will start and run the Text-Editor Word-Pad.

See also:
► ... create desktop shortcut to WordPad on Windows-8.1  or pin on start!



Image-1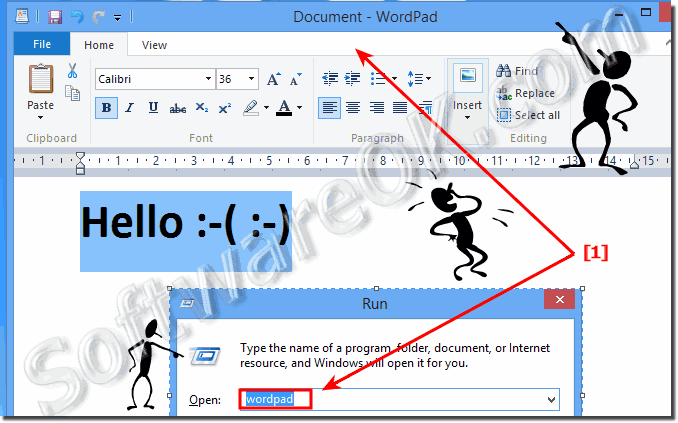 Find WordPad in Windows-8 and (open, start, run)

Solution  2 - Start the WordPad via Windows-8 Start search!


 
To start the WordPad in Windows-8 via Windows-8 Search, please use the Hot-Key [Windows] and enter the text wordpad. The windows-8 search will find and show you the Wordpad program! Start the WordPad via click or tap on the Word-Pad Icon (Symbol).  (... see Image-2 Arrow-1 and 2)



Image-2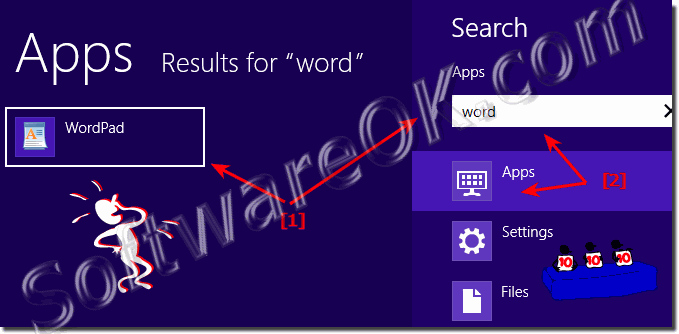 Windows 8 wheres is the word and wordpad



See also:
► calculator in Windows 8 and 8.1 
►► Windows 8 On-Screen Keyboard
►► Run in windows 8.1 / 10 
►►► find and open the program folder in Windows
► find open the Computer-Management in Windows
►►► Disk-Management in Windows 8, 8.1 or 10?
►►►►► Magnifier for microsoft windows 8.1 (open, find)!
►►►►►► Activate Windows 8 / 10 and 8.1

FAQ 111: Updated on: 25 July 2018 00:59