It is quite easy to delete fonts from FontViewOK 5.77 ergo to the Windows Recycle Bin on all Windows Desktop and MS Server OS!
A user's problem: Hello my friend.
I want to ask if you can add an option to FontView.
It would help us a lot if we could right-click a font while viewing the fonts from any folder on our computer and delete them from the folder on our hard drive (delete option).
This makes it easier for us to organize our thousands of fonts.
Thanks in advance.


Delete fonts directly in FontViewOK! 



1. Start FrontViewOK as usual

2. Please click on the button from a folder
( to select / display fonts that are not installed )

3. Select one or more fonts to be deleted 

4. Use a right-click (context menu)

5. and simply delete
(... see Image-1 Point 1 to 4)


PS: I think that everyone Installed Fonts in Windows 10 can delete in order to create more space on the system  




(Image-1) Delete fonts in FontViewOK (Windows Recycle Bin)!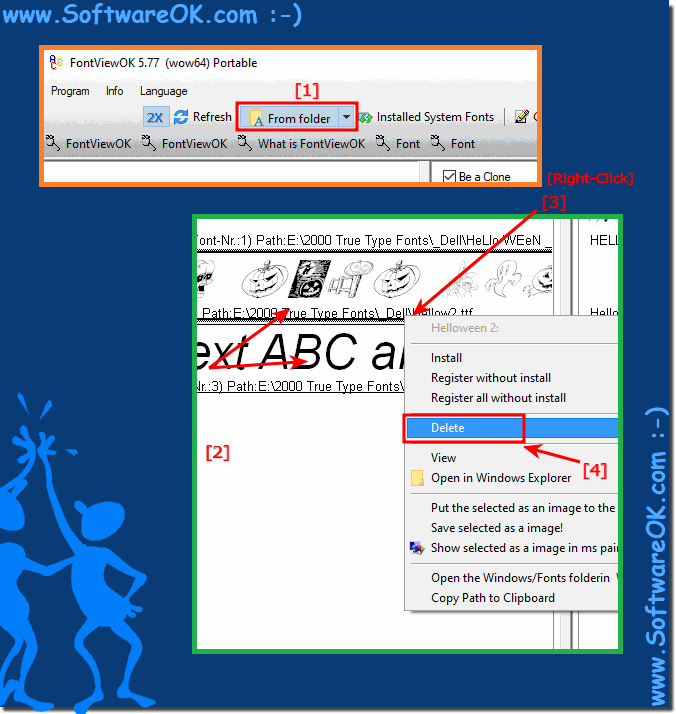 FAQ 9: Updated on: 29 August 2023 09:41