Sometimes, the for example MS File Explorer hangout or other Windows Programs, Apps and Tools!


On Windows 8, 8.1 or 10, en the Windows it is extremely slow and takes almost 100% CPU load. This example is for all programm hangouts on Windows!


Hot-Tip: ► ...ProcesKO!

1.) Enforce the closing, or restart of the programs in Windows 8 / 8.1!
Press the Windows 8 keyboard shortcut (combination) [Windows+Shift+ESC] to see the Windows 8 Task Manager.

In Windows (8/8.1) Task Manager, click on "more details" (... see Image-1 Arrow-1)  to see all the programs and information in the Task Manager!

Then you can see all the programs in the W8 task manager (... see Image-2).

To restart a program, please click the right mouse button on the appropriate program! In this example it is the MS-Explorer! You can "Restart" the program (... see Image-2 Arrow-2) , or close e.g. kill the program with the option "End Task" (... see Image-2 Arrow-2)!



(Image-1) Task-Manager-In Windows-8 and 8.1
(Image-2) Close or kill hangout programs, i.e. MS Explorer in Windows 8 and 8.1!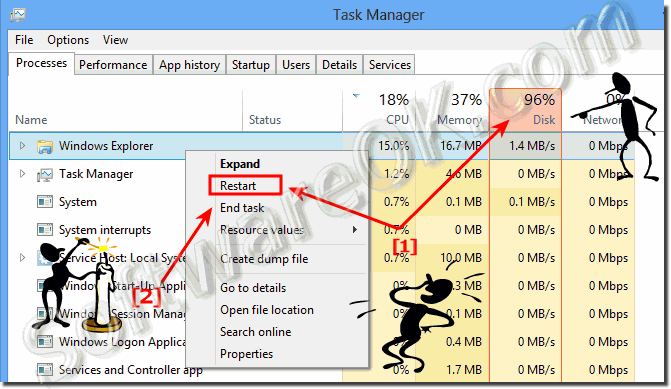 2.) Negative effects when you restart the MS-Explorer!
If you re-start the MS Explorer, the following can happen:

1. When there are copied or moved files, the copy process is interrupted, this has to be repeated! In very several cases it can cause lost of data, but rather very rarely case.

2. The desktop icon arrangement is lost and the desktop icons to be rearranged.
Here the tool ... DesktopOK can help you.

PS: Optionally you can also use Q-Dir as a file manager. If this hangout, or smeared, he need to get closed (killed) and not the MS-Explorer!

3.) Why is that so in the MS Explorer in Win-8/8.1
The MS Explorer is not only responsible for file management, but also for many other things!

But usually it happens, when indexing the files and when reading the file information, such as Dimension of images, the length of the video, etc.

Sometimes the files are damaged, of course remove the corrupt file from hard drive.
See also: .... Customize Indexing options in Windows 8 and 8.1

4.) Freeware alternative to kill programs!
ProcessKO is a handy freeware program that does the job quite and very well in Windows 8 and 8.1.
See: ... ProcessKO for fast killing and re-starting of the processes and programs! 

5.) How can I prevent a hangout in Explorer
The following items reduce the numbers of hangouts in MS-Windows Explorer 8 and 8.1!
Remove corrupt files from the hard drive
Avoid directories containing over 20,000 files. They prefer to create subfolders in the main folders.
If it is not a SSD, optimize and defragment the hard drive!
FAQ 129: Updated on: 25 May 2020 02:50