Manually create a restore point in Windows 10 or 8.1

, which is especially useful, if you install programs, that you are not sure, whether this could have negative impacts on the Windows-8/10!

Yes, you can create, every one can create the restore point!

To start a manual create of a restore point in Windows 8 or 10, press the key combination [Windows logo] + [R] , then simply enter the command sysdm.cpl ,4 (... See the Image-1)

Then appears the advanced system properties in Windows (... See Image-2)!

In "System Protection", simply click on the button "Create" and choose an appropriate name for the restore point.
Then click again on the button "Create" (... See the Image-3)

(Image-1) Run : The command to open the
System protection in Windows 8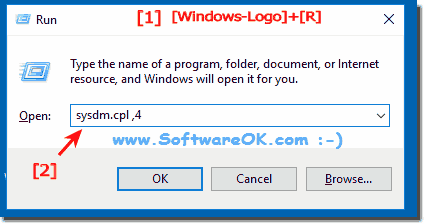 Create a restore point right now for the drives that have system protection turned on.



Type a description to help you identify the restore point. The current date and time are added automatically.





The last message is: Creating a restore point...
and The restore point was created successfully.



(Image-5) Restore Point was created Windows Win 10 or 8.1!





You can find available recovery points in the System Volume Information folder at the root of each partition on the disk that has system protection enabled. This is a system directory that can not be deleted, but you can reduce its size if necessary. By default, the folder is hidden. You can see it through File manager Q-Dir  or other file manager, but you still can not open the directory without additional rights. Therefore, we will do without file manager and only configure access to the system folder.

FAQ 28: Updated on: 20 July 2019 07:26