Many would like to use Windows 11, 10, 8.1, 7, ... Explorer.exe in Windows XP, but that doesn't work, and the one from Server 2019, 2016 doesn't work either!


Contents:



1.) Use the Windows 11 Explorer.exe in XP?
No, you cannot use Vista Explorer in Windows XP. But if you want, you can use or test Q-Dir in Windows XP ;)  .... click here if you're having trouble with a program that needs to be integrated with Explorer, or you need to update some system settings that require Explorer to be restarted, you need this little program.

In general, restarting Explorer can fix some Windows-related issues (such as a program freeze,  crashes, icon cache issues, etc.) so there is no need to restart the PC. This works on Windows XP, Vista, 7, 8, 8.1 and Windows 10 (32/64 bit).




(Image-1) Restart Explorer.exe on Windows XP!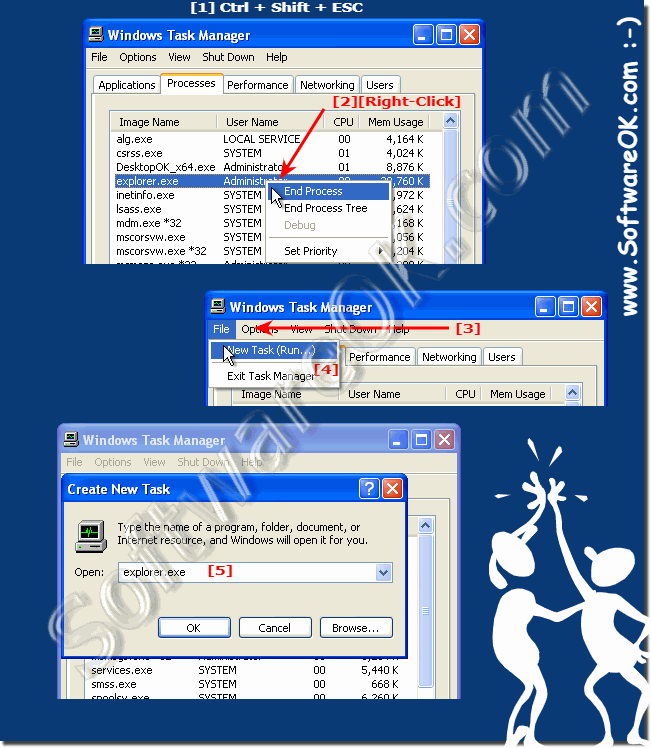 2.) Is it safe that I can use Windows 10 Explorer under Windows XP!

No, you cannot use the Windows 10 version of Explorer.exe on Windows XP. Explorer.exe is the Windows file explorer and is tightly integrated with the operating system version for which it was developed. Windows 10 and Windows XP are two very different operating systems with significant architectural differences.

Each version of Windows has its own Explorer.exe tailored to that version. Attempting to replace Windows XP Explorer.exe with one from Windows 10 or another incompatible version could cause system instability, errors, or even cause your computer to stop booting.

If you are using Windows XP and need to perform certain tasks or take advantage of certain features in newer versions of Windows, we recommend that you consider upgrading to a newer and supported version of Windows as Windows XP is reaching the end of its extended support from Microsoft was released in April 2014 and no longer receives security updates. Upgrading to a newer operating system not only gives you access to more features and compatibility, but also ensures that your system is more secure.

It is neither safe nor advisable to use Windows 10 Explorer.exe on Windows XP. Attempting to replace or use system files from a newer version of Windows in an older version such as Windows XP can cause serious compatibility problems and system instability, potentially rendering your computer unusable.

Windows Explorer is a core component of the Windows operating system and different versions of Windows have their own specific versions of Explorer.exe optimized for their respective operating systems. Mixing and matching these system files between versions is not supported and can cause a variety of problems.

Additionally, Windows XP is an obsolete operating system whose lifespan ended in April 2014, meaning it no longer receives security updates or official support from Microsoft. Continuing to use Windows XP poses a significant security risk because it leaves your computer vulnerable to known security vulnerabilities.

If you require features or functionality of newer versions of Windows, it is strongly recommended that you upgrade to a newer and supported version of Windows to ensure both compatibility and security.

FAQ 5: Updated on: 7 October 2023 17:27