The solution is extremely easy to
find the folder with Windows 10 background images

, respectively Windows 10 Design Wallpaper!

The Windows 10 operating system is designed for the visual appeal and convenience of the user. By default there are wallpapers in W10. The default Windows 10 user, quickly raises the question: where can I find the default wallpaper directory in Windows 10 and how do I open it for example to create a backup of it.

If you have downloaded nice Windows 10 designs, the pictures are in the folder or directory:

%windir%/web/Wallpaper

or

C:\Windows\Web\Wallpaper

.

This is handy if you want to use the Windows 10 wallpaper for another computer, then you do not need to download it again, or just to make a backup copy of the folder.

See also  ► 

adjust the symbol spacing on the Windows 10 desktop

!

 The Default folder for Desktop Wallpapers in Windows 10!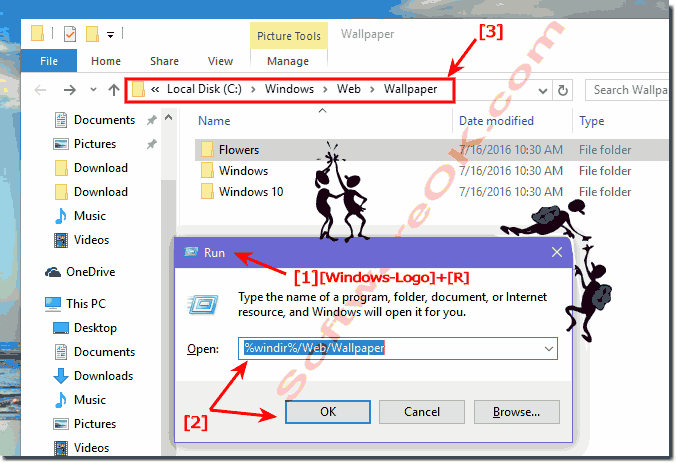 Windows 10 has standard desktop wallpaper, lock screens that could interest the user. A question may be where these image files are stored. Finally, they can also be used for their own needs, for example in another operating system, or as a background on a smartphone.
Desktop wallpapers are in Windows 10 very cute. Many users like this background wallpaper on their desktop. The combination of pictures, colors, sounds, screensavers is called theme. The computer already has ready-made designs. You can create and customize the design at your discretion.
So too: ►
Adjust the preview window size in Windows-10
! or ►
adjust the symbol spacing on the Windows 10 desktop
!