It is easy to activate the libraries in File Explorer and see them in all new Windows 11 / 10 OS!
W11:
Folder Options In Windows 11
!
Content:
1.) Activating the libraries under Windows 11/10!
1. Start the MS Explorer
2. go to view 
3. open the folder options (in Windows 11 [...] Menu ► Options)
4. activate the libraries in the navigation area
(
... see Image-1 Point 1 to 6
)
(Image-1) In the file explorer show the libraries under Windows 11/10!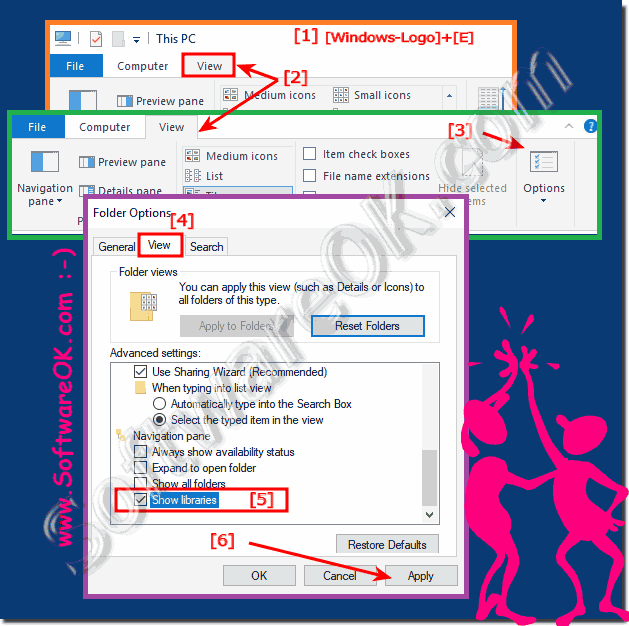 Fix library problems!

A problem with your libraries can be a big problem, especially if you store your data in these folders. If you have problems with libraries, it's a good idea to read this guide for repairing music and other libraries. It's a quick fix that basically resets your libraries. You can apply this correction not only to the music folder but also to videos, pictures, and documents. That should be all, we do not know why Microsoft decided to exclude libraries from the standard navigation bar, but as you can see, it's easy to get it back.



2.) Why do the libraries disappear in File Explorer in Windows 11/10!
The Windows 10 semi-annual update is not something like the old service pack, it is much like a system reinstallation, all older drivers with devices before 2014 have to be mostly reinstalled, especially
Windows 10 printers and scanners
.
It is the same with other
advanced system settings
and the
Windows libraries
, but fortunately you can activate the libraries fairly quickly.