Under Windows 11, 10, 8.1, ... it is easy to copy or move files without directories!

Especially when you import photos from your camera, or SD card via or with any of the Photo App, or Desktop application, many subfolders are created in the destination folder that may not be what you want. Here's a step-by-step guide to moving all files from multiple subfolders recursively to a folder of your choice.


Move or copy multiple files from different folders to one!
1. Start the standard file explorer (Windows+E)
2. Navigate / Open the relevant folder 
3. Activate the file search with the F3 key
4. Select / enter the search term
*.?
5. Ctrl+A to select All
(
... see Image-1 Point 1 to 3
)
it is!  
quite easy to copy the files, even if they are in different folders, without great expertise.
Especially with many videos, or movies.
You always have to
resort
to external tools such as the quad-explorer , the standard file manager is sufficient here! 


(Image-1) Copy files without directory under Windows 10, 8.1, ...!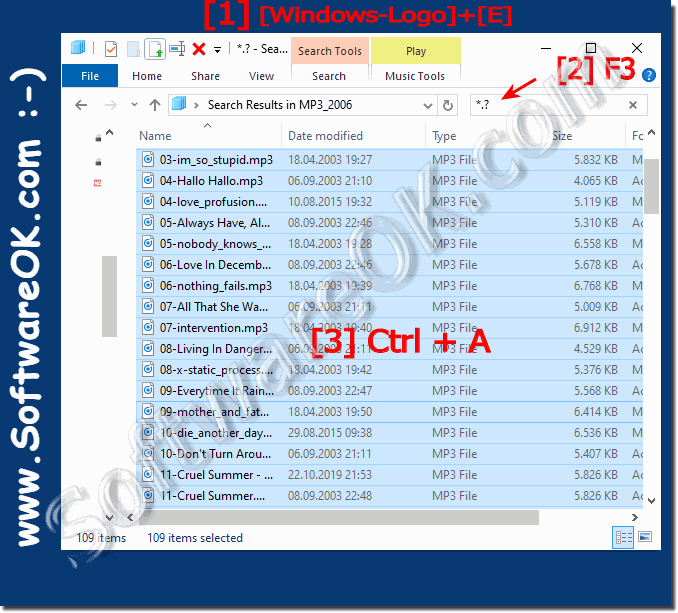 Info:
After making sure that all files have been moved, the folders in the old location can be deleted. This tip does not just apply to photos imported from the camera. In all other situations, the procedure for moving or copying all files from multiple subfolders to a separate folder is the same. When you copy or move files and folders by using Windows Explorer, the
permissions set
on the files or folders may change. For example, if you have a file in an NTFS file system, or between two
NTFS partitions
 copy, Windows 10, 8.1, ... will treat it as a new file. As a new file, it takes over the permissions of the destination folder and you automatically become the creator or owner.