The disk check is part of Windows 10/11 and should be done in the event of unusual behavior!
The disk check
as well as the well-known
CHKDSK
is designed to find logical file system errors, these are fixed and the data is saved on the hard disk so that no data is lost.
Logical file system errors are errors such as corrupt entries in the drive's Master File Table (MFT), a file that tells the drive how files are connected to the paths on the drive.
There is at least one entry in the MFT for every file on an NTFS volume!
Simply start the disk check on Windows 10/11!
1. Start the
Windows 10 File Explorer
2. Through a simple right-click
"Properties"
to call
3. In the drive properties tab
"Tools"
4. And without detours the disk check for Windows 10 start
(in this case the system Drive C:\
(
... see Image-1 Point 1 to 5
)
PS: Regardless of whether it is an
SSD or HD drive,
external hard drive,
SD card and USB
drive, the disk check for Windows 10 is always sensible and can be started at any time.
(Image-1) Start the disk check on Windows 10!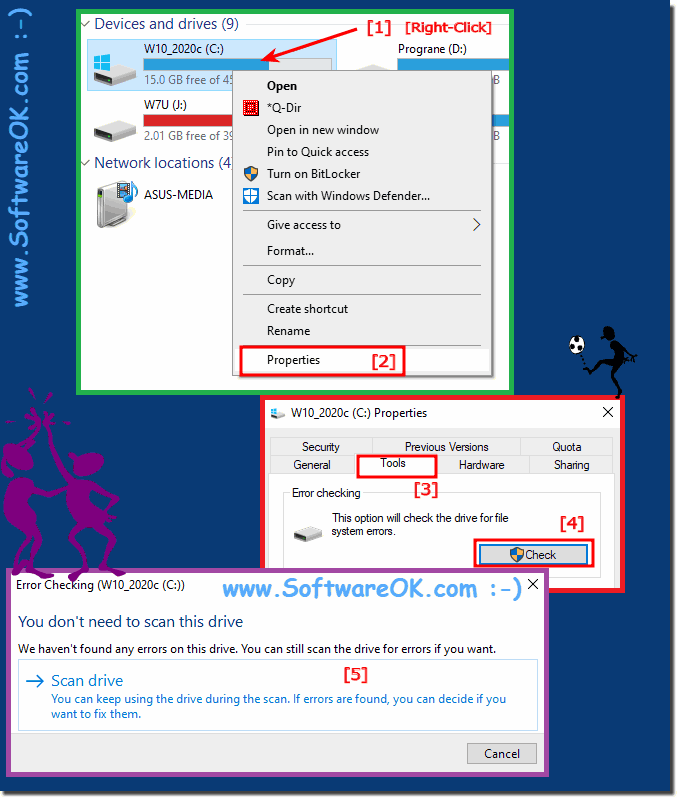 The
disk check for Windows 10 also
corrects misaligned time stamps, file size information and security flags for files on the drive.
Disk check on Windows 10 can then perform a full scan of the drive and access and test all areas of the hardware.
All hard drives and other data carriers are divided into logical sectors, these are so-called defined areas of the hard drive in which a certain defined amount of data is stored.
Sectors can develop soft errors in which data has been incorrectly written to the medium, or hard errors in which the drive itself has an actual physical defect in the area referred to as the sector. 



Still having trouble starting Disk Check?
What can I do if I still have problems with disk verification is a frequently asked question. Restart the Windows operating system, please
carry out a correct Windows restart
.
The problem with the data carrier check should then no longer exist!