A look at the logging of problems in Windows 10/11 Event Viewer can be worth gold!
1. Simultaneously press the Windows key + R to open the "Run" dialog box.
2. Type
eventvwr.msc
and press Enter to open the
Event Viewer
3. Navigate in the
"Event Viewer"
window what should be logged
(here in the example printer)
4. Right-click on
"Ready for Operation"
and select Properties.
5. In the dialog box
"Log Properties"
option
"Logging"
.
Self-explanatory: (
... see Image-1 items 1 to 8
)
PS:
On some Windows servers you can access the event viewer via Server Manager -> Tools. You can change the maximum size of the event log, or enable overwrite events as needed to save only the most recent events.
.
(Image-1) Enable logging in Windows 10 and MS Server!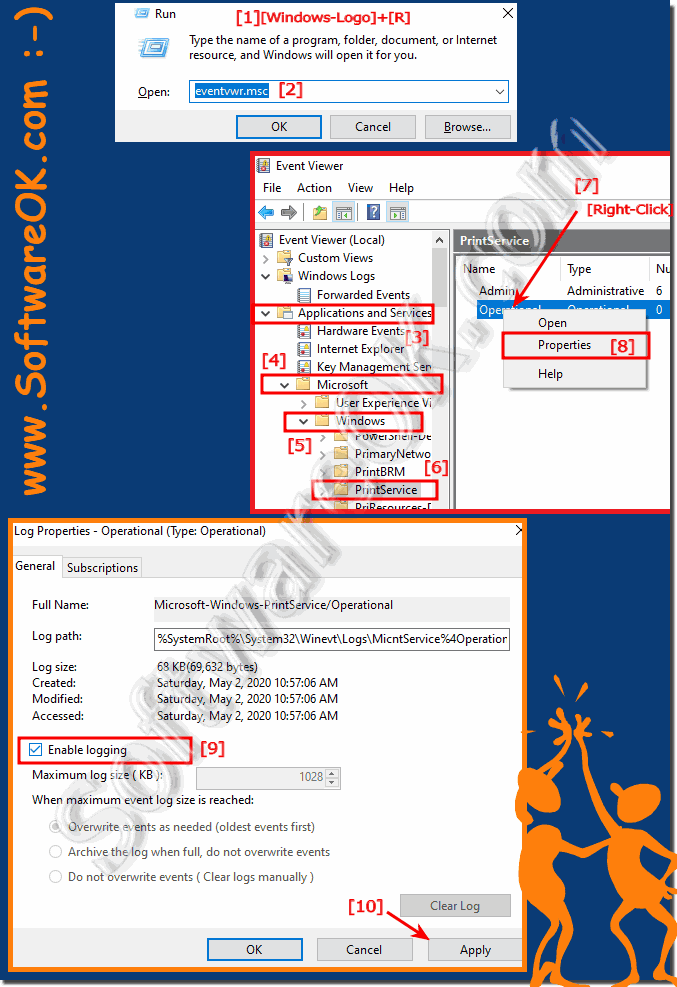 Info:
The elegant solution is not only for
Windows 10 
written to enable or disable print logging. You can easily use this example on other versions of Microsoft's Windows operating systems, whether it is a Windows desktop, tablet, Surface Pro / Go, or even a server operating system. The company currently spends several € 100 billion annually on printed forms. Each employee uses over 1,000 sheets of paper a year. For this reason, monitoring printer usage is very important to reduce the cost of printer supplies and their use. Another reason to know who and how corporate printers are used is to manage your resources and plan upgrades or downgrades of specific printers or print servers. If you're after using the printer or similar terms, you'll find dozens of special printer monitoring software. These programs are usually installed on print servers and are usually not cheap. However, you can track printer usage without third-party software by analyzing Print Spooler's Windows events. Using the Event Log Explorer greatly improves this process.