It's easy to open the Internet Options in all Microsoft Windows operating systems!
The Internet Options are not only responsible for IE under Microsoft Windows!
1.) Open the Internet options quickly under Windows!
1. Start the run dialog [Windows + R]
2. Simply the command:
inetcpl.cpl
3. And confirm with the [
Enter key
]
(
... see Image-1 Point 1 to 3
)
PS:
Some settings are not only valid for Internet Explorer, even Chrome, Edge, and Firefox, .... take over some of these settings, because they are valid in the whole system world, not only for Internet Explorer, especially proxy settings and others are heavily branched in MS OS!
(Image-1) Find and open the Internet Options in MS Windows OS 10, 8.1, ...!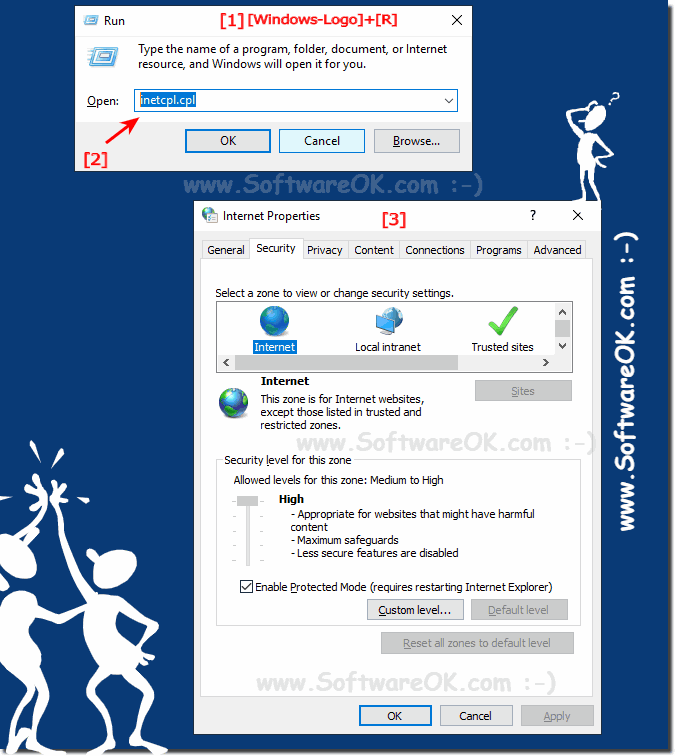 The elegant solution is not only written for
Windows 10
, even if this screenshot was taken under Windows 10, you can use this example as a solution to open the Internet options on all versions of Microsoft's Windows operating systems, regardless of whether it is a Windows desktop, tablet, Surface Pro / Go, or even a server operating system.

2.) Tips and informations about Internet options under Windows!
Here you can quickly find the Internet options in the
Windows Control Panel
(
... see Image-2 Point 1 to 4
)
(Image-2) Find the Internet Options in MS Windows 10 Control Panel!