Anyone who uses WordPad often comes up with the idea of ​​creating a keyboard shortcut for the Windows writing program !
Everyone knows the 
keyboard shortcuts in Word-Pad
. But is looking for the solution or instructions to elegantly start the WordPad with a keyboard shortcut and not only on Windows 10, but also on earlier versions of Microsoft, regardless of whether you use the WordPad keyboard shortcut on a Windows desktop, tablet, surface Pro / Go, or even wants to use a server operating system.
Step by step to create a WordPad keyboard shortcut for Windows!  
1.
Windows + Q
keyboard shortcut
2. Search term
"wordpad"
3. Right-click on WordPad
4. Open file location 
5.
Right-click
on the WordPad icon
6. Open WordPad properties
5+6 Second Option: Select File and
Alt + Enter
7. Define keyboard shortcuts (simply mark the field and use the desired keyboard shortcut) 
8.
"Apply"
button
...............
It is very easy to define a WordPad shortcut key so that you can start it even faster. 
External WordPad keyboard shortcuts
are hardly necessary in the comfortable Microsoft Windows 10!  
(Image-1) Create WordPad keyboard shortcuts for Windows 10 and 11!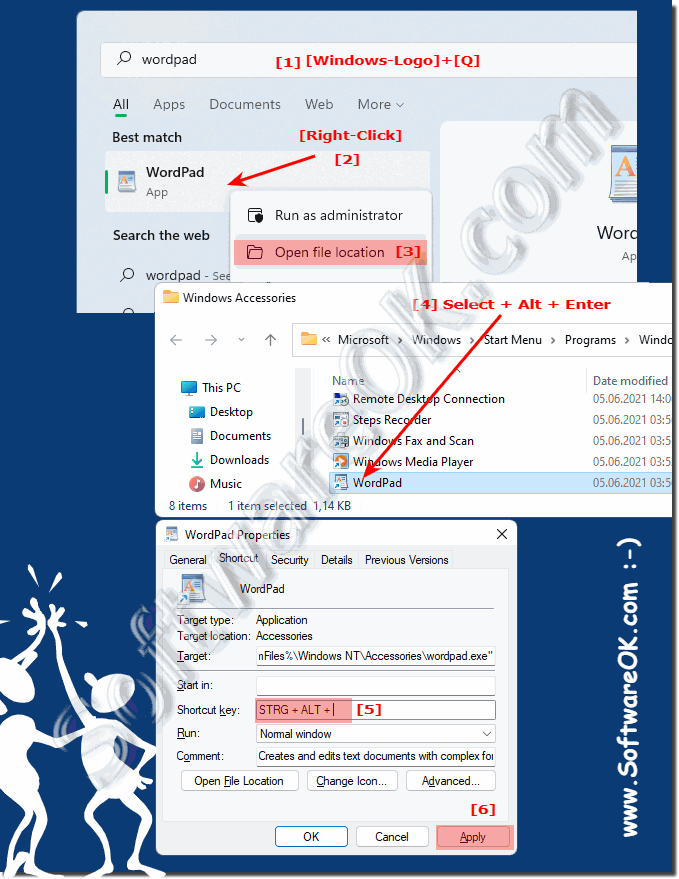 C:\ProgramData\Microsoft\Windows\Start Menu\Programs\Accessories