It is easy to use the Windows Live Writer on Windows 10/11 as well as MS Server 2019, 2016!
Many have suspended blog maintenance for some time. One of the reasons is that Windows Live Writer cannot be installed on Windows 10/11 devices. Meanwhile, some bloggers have found that there is a way to install Windows Live Writer on Windows 10 devices because Windows Essentials 2012 Suite is no longer available for download, but if you already have it installed it will continue to work. As of January 2017, it will not be available in Windows 10/11.
PS: But this is more for bloggers,
the free MS Office
makes more sense for
standard users
, or the
free writing program WordPad
, which is preinstalled in Windows!
1. Start MS Store 
(
Windows+Logo Key
+ Text:
"store"
)
2. Enter the search term
"Open Live Writer"
3. Just install it
(
... see Image-1 Point 1 to 5
)
(Image-2) Use Windows Live Writer on Windows 10!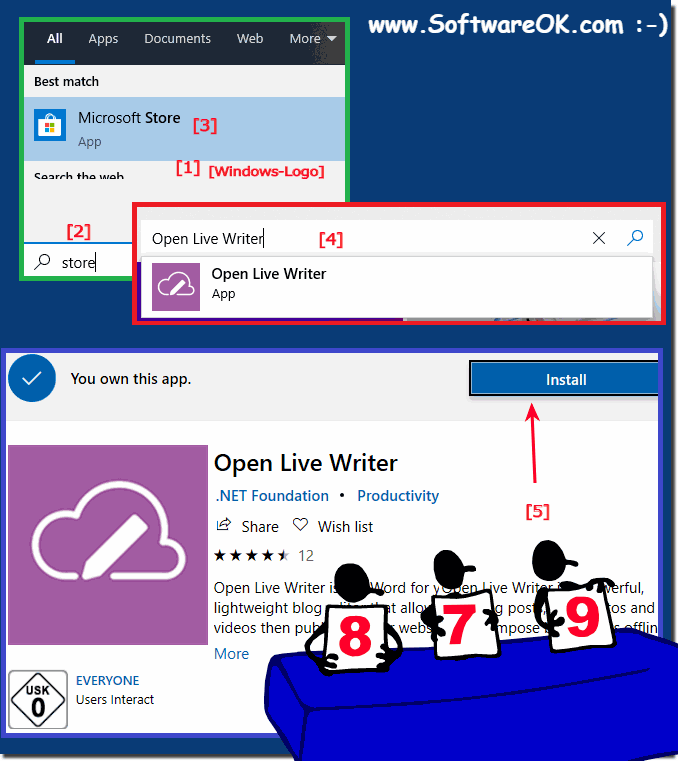 It is very nice of Microsoft to make the code available as open source and that a team of volunteer open live authors have released it.