It is easy under Windows 10/11, the on-screen keyboard automatically when logging in, or after logging in to start!

Especially with tablets, as well as MS Surface, it is very convenient if the on-screen keyboard starts automatically when you log in. On the way to mobile devices you are not only use physical keyboard for work with the virtual keyboard under Windows 10/11 you can almost work like on your desktop PC!


Content:
1.) The automatic start of the on-screen keyboard at login!
If you want the on-screen keyboard to appear on-screen immediately upon login, please open the 
shell: startup
 directory   
After opening the folders, right-click on a
blank
area and simply create a
shortcut
to the
osk .exe
.
Is the same as a: ►►
desktop shortcut for the on-screen
keyboard !  
(Image-1) On screen keyboard at windows 10 Start or Logon!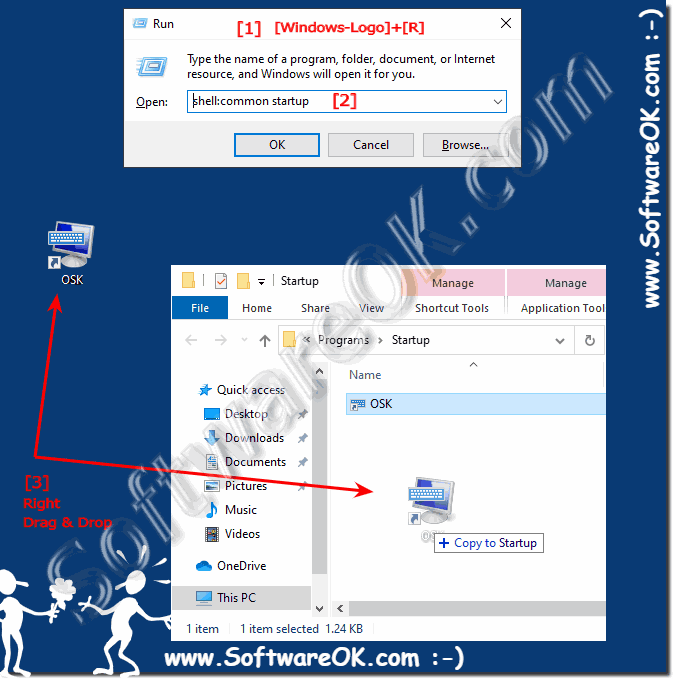 2.) What should I pay attention to with the virtual keyboard!
The on-screen keyboard uses the installed input method or language keyboard layout. 
The symbol table is a fine Windows program. With it you can find characters that are not on the keyboard and then insert them into an application. 

The Windows 10 / 11 on-screen keyboard can be used to work without the physical keyboard, such as typing text and data. The on-screen keyboard in Windows 10 displays a visual keyboard with all standard buttons. The keys can be selected using the mouse, or other pointing device, or you can use a single key, or a group of keys, to toggle between the keys on the screen.