Hide the system pointer is a reasonable option for presentations for example in Microsoft Power-Point.


When the option "Hide system mouse pointer" is activated, the default mouse pointer or cursor will be not displayed (hide, disable, shielded, faded out)!

E.G: Hide the default mouse pointer when show the pointer stick!

PS: Of course, the Windows Mouse Cursor was an optional feature that can be turned on and off at any time, depending on whether you find the Windows Mouse Cursor annoying or not.



(Image-1) Hide system mouse pointer feature for windows!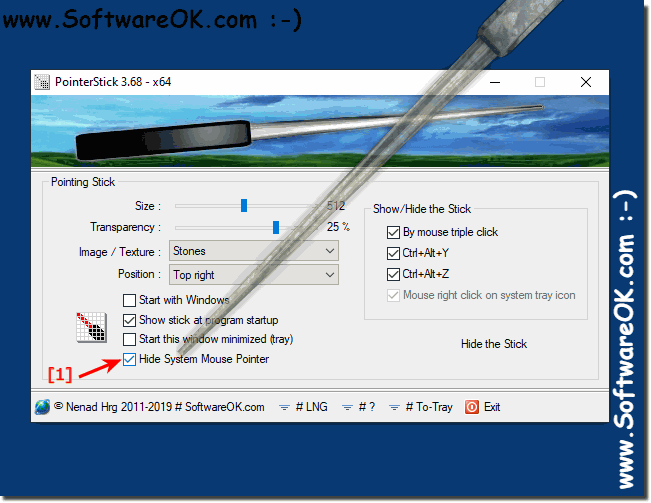 Info:

As you can see from the screenshot taken in Windows 10 above, you can quite easily display the mouse's Windows system cursor during the press presentation in the virtual pointer, or even leave it hidden. This solution can easily be applied to other and older versions of MS Windows operating systems so that the mouse cursor is simply not displayed. It does not matter whether the presentation is made on a stealthy Windows desktop PC, Tablet PC, Surface Pro / Go, or even on an NT server operating system.



FAQ 3: Updated on: 10 May 2019 07:38