The function, Hyper-V which is responsible for the virtualization under MS Windows  11 / 10 and Server 2022, 2019, 2016, easy enable or disable!

For example if you have it randomly and unconsciously disabled a function, or the virtualization, or Hyper-V is not working properly, then you can just disable this virtualization function and then reactivate! This usually leads to the full function of Hyper-V.  


Content / Solution / Tip:
1.) Activating Hyper-V virtualization under Windows 10, 11 / Server 2019, ...! 
Please use the
Windows-X
menu and activate or deactivate, here in the example, the
Hyper-V
For Windows 10 Creators Update the menu entry
Apps and Features
! However,
1. you can call the window directly via
Windows + R
  keyboard shortcuts
2. and the
appwiz.cpl
command.
3 And change, disable and enable Windows features (Virtualization Hyper-V). 
(
... see Image-1 Point 1 to 5
)
(Image-1) Hyper-V Virtualization on Windows 10 or Server 2016!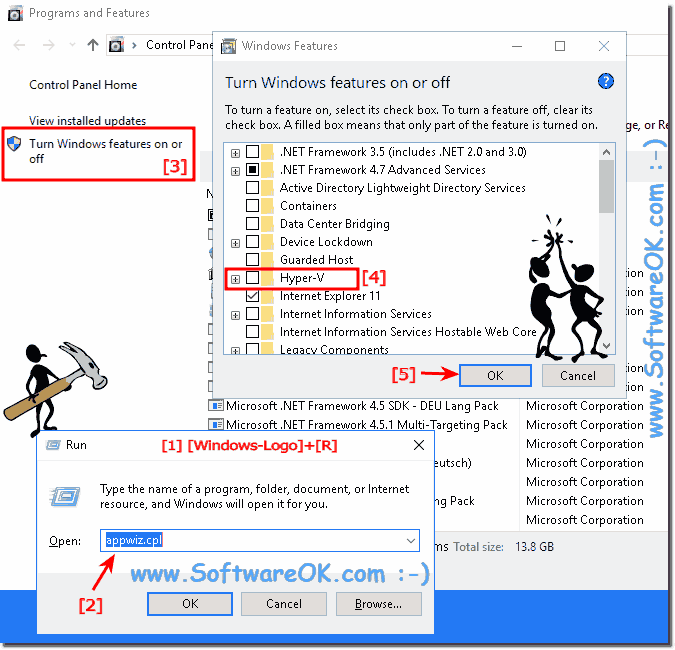 Hyper-V The virtualization under Windows 10 and Server 2016 is a fine story here you can virtually run different Windows and Mac, Linux operating systems under Windows and off, or under Windows 11, 10, 8.1, 8, 7: Pro, Home, Enterprise, Basic, Premium, Professional, Starter, Ultimate, Windows-Server 2019, 2016, 2012 available and can be used to virtualize various operating systems, which is very useful if you want to do various tests under different operating systems, or the behavior simply without dangers wants to test with the help of virtualization.

2.) What should I consider when using Hyper V virtualization!
Info:
If you enable Hyper-V virtualization on Windows 10 and / or Server 2016, other virtualization tools will not work, such as 
Virtual Box from Oracel Systems
.
So activate only if you do not want to use other virtualization under Windows 10 and / or Server 2016. 
See also: ►►