You can easy and simple switch from classic to modern Address-Bar, from File Explorer version 7.21 both use on MS Windows 11, 10, ... to Win XP! 
1.) Changing the Classic to Modern Address Bar! 
Please start the file explorer and activate the Option 
Classic Address bar
 via: 
▼ Main Menu ▼ Extras ▼ Address bar ▼ Classic Address bar
Please use 
... always the newest Version of the file explorer Q-Dir
! ▼  
Read full description: 
How can i switch address bar in Explorer Q-Dir
!
(Image-1) Classic and Modern Address-Bar example on Windows-10!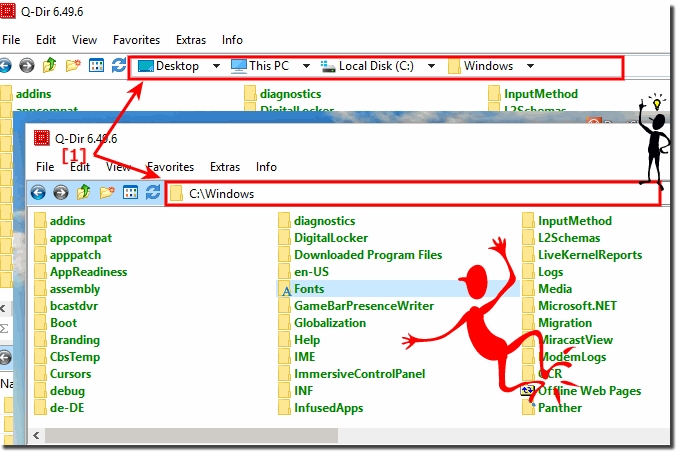 2.) From 7.21 both use Classic and Modern address bar! 
Now you can benefit from the advantages in Both address bars  
Mixing from the address bars in the file explorer Q-Dir via the 
(Image-2) Activate Classic and modern Address-Bar in File-Explorer!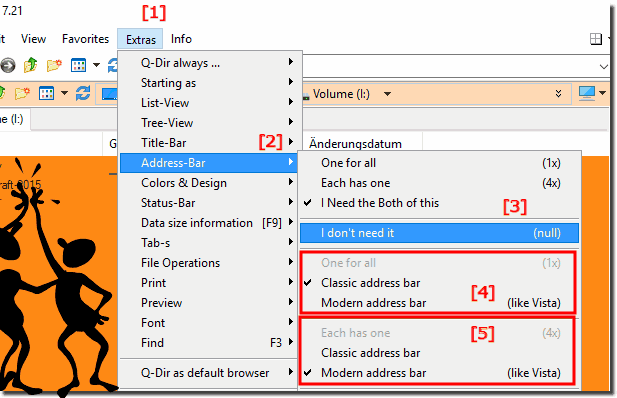 (Image-3) The Classic and The Modern Address-Bar!


3.) The fast drives switching via the address bar! 
etc. ... 
(Image-4b) Auto completion in address bar!


4.) Integrated directory tree in every File Explorer Address-Bar! 
Tip: 
5.) Further links to information about the address bar in Q-Dir on MS Windows OS!!
Here you can find more information about the file explorer address bar!