The solution is simple to change the language in QuickTextPaste or translate the language in yours!
Please start Quick Text Paste and switch the language:
click the button
LNG
: If you want to change the language: (
... see Image-1
)
Please use always 
... the latest version of QuickTextPaste for Windows
!  
   find some info in 
... Quick text paste FAQ
The supported languages in Quick Text Paste 
...Multilingual
Read also: 
Save state and Settings Problem?
(Image-1) Change the language in QuickTextPaste!


(Image-2) Switch the language in Quick-Text-Paste!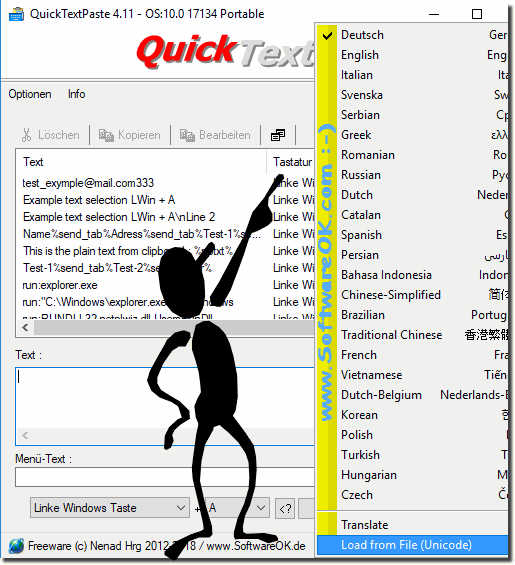 Info:

Easy sitch the language in Quick-Text-Paste to:

Deutsch  / German
English  / Englisch
Italian  / Italiano
Svenska  / Swedish
Serbian  / Cрпски
Greek  / ελληνικά
Romanian  / Română
Russian  / Русский
Dutch  / Nederlands
Persian  / زبان فارسی‎
Bahasa Indonesia  / Indonesian
Chinese-Simplified  / 简体中文
Brazilian  / Portuguese
Traditional Chinese  / 香港繁體中文
French  / Français
Vietnamese  / Tiếng Việt
Dutch-Belgium  / Nederlands-België
Korean  / 한국어
Polish  / Polski
Turkish  / Türkçe
Hungarian  / Magyar
Czech  / Čeština
Arabic  / عربي