It's easy to grant Quad Explorer access to folder protection under Windows 10/11 or MS Server 2022 and 2019!
Many users have
problems with Windows folder protection
when Defender
real-time
protection is
enabled
, folder protection is a well-intentioned thing from Microsoft, but it denies any program access to gun directories, however, since folder protection is quite exaggerated by the usually just normal desktop programs prevents it from working properly.
For a virus or other malicious software, Ransomware do not pose a major obstacle except for wannabe viruses!


Allow Q-Dir access to folder protection on Windows 11, 10, ... ! 
1. Start the 
quad-explorer
2. Via Menu ► Extras ► System ► (
... see Image-1
)
Thus one must make ► 
the standard Windows 10 / 11 folder protection procedure
! 
(Image-1) Give Quad Explorer access to folder protection under Windows 10!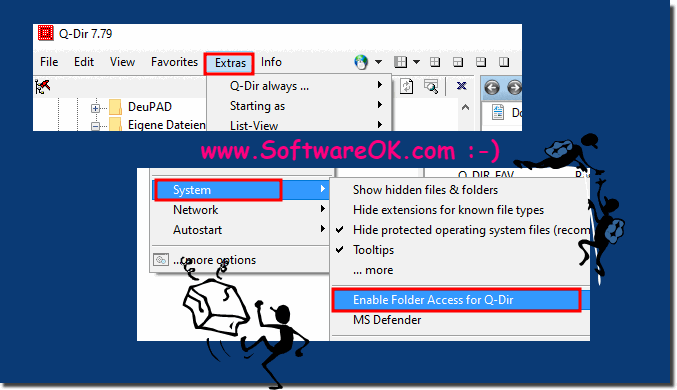 How to Enable Controlled Folder Access in Windows 10 Case Creators Update Windows 10 has a new security feature that lets you protect your files and folders from ransomware.
... the steps to activate ransomware are described here
.
Windows Controlled Folder Access is primarily designed to prevent ransomware from encrypting and taking your data, but also protects files from unwanted changes by other malicious programs.
It is a logon feature, and when enabled, intelligently tracks the apps executables (exe), scripts, and DLLs that attempt to make changes on files in the protected windows folders by using a mechanism.
If the app is malicious, ransomware or unrecognized, the feature blocks the experiment in real time and you receive notification of the suspicious activity.