A portable use of DesktopOK on Windows is possible, and it does not matter whether it is Windows 10 / 8.1 or Windows 7 or Windows Server!


By default is the DesktopOK.ini in:

"C:\Users\User_Name\AppData\Roaming\DesktopOK\DesktopOK.ini"



eg %appdata%\DesktopOK\

For portable use: create or copy in the same directory (DesktopOK Work-directory) the file DesktopOK.ini.
DesktopOK will uses this to save the desktop icon layouts. (Please restart DesktopOK)

Please don't Save in Protected folders in Windows 10. 

From Version  3.73:
If can't write in the DesktopOK.ini, auto create an ini file in the %appdata%/DesktopOK/DesktopOK.ini to save the Desktop Icons-Location.

Info: Please Run (Windows + R) the Command %appdata% to find this folder!

Please use ... always the latest Version of DestopOK! 

Important: the Windows 10 x64 is very aggressive to the X32 APPs please use the x64 Version of DesktopOK.



(Image-1) DesktopOK Portable on Windows-10!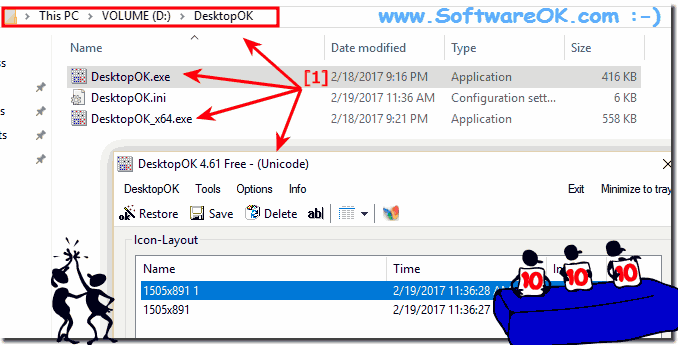 FAQ 1: Updated on: February 18th 2018 22:40