A portable use of DesktopOK on Windows is possible, and it does not matter whether it is Windows 10 / 8.1 or Windows 7 or Windows Server!




By default is the DesktopOK.ini in:

"C:\Users\User_Name\AppData\Roaming\DesktopOK\DesktopOK.ini"

eg

%appdata%\DesktopOK\

For portable use: create or copy in the same directory (DesktopOK Work-directory) the file DesktopOK.ini.

DesktopOK

 will uses this to save the desktop icon layouts. (Please restart DesktopOK) 


Please don't Save in Protected folders in Windows 10. 

Content:



1.) How to find, ergo Where is the file DesktopOK.ini saved to?
From Version 5.xx it is very easy to open or find the DesktopOK.ini or the DesktopOK.in Folder Path and DesktopOK, work Directory ergo work folder!

(... see Image-1 Point 1 to 5)

[1]. open the Info Menu
[2]. Edit the DesktopOK Ini
[3]. Open DesktopOK, work Directory
[4]. Open DesktopOK.ini, Folder Path
[5]. DesktopOK.ini info





(Image-1) Find the DeaktopOK INI-File!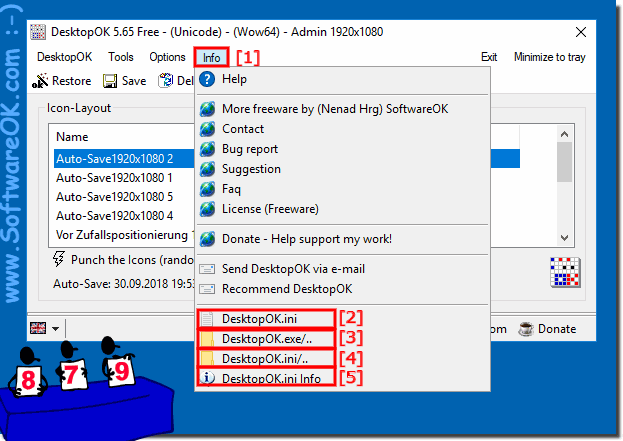 2.) Portable Info to the DesktopOK.ini!

From Version  3.73:
If can't write in the DesktopOK.ini, auto create an ini file in the %appdata%/DesktopOK/DesktopOK.ini to save the Desktop Icons-Location.

Info: Please Run (Windows + R) the Command %appdata% to find this folder!



Important: the Windows 10 x64 is very aggressive to the X32 APPs please use the x64 Version of DesktopOK.



(Image-2) DesktopOK Portable on Windows-10!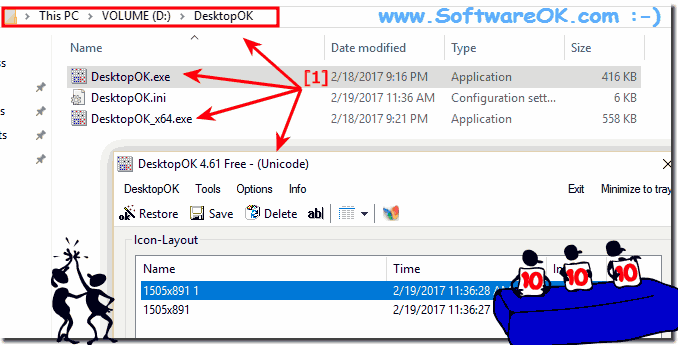 FAQ 1: Updated on: 30 September 2018 17:53