However, formatting does not completely erase the data, it can be restored with a variety of software, whether it was a quick format, or normal formatting.
Formatting (normal formatting):


Normal formatting of the disk or disk rewrites the file system, resulting in conditional deletion of the files. In addition, the sectors are checked for bad sectors.


Quick Formatting (QuickFormat):


Quick formatting removes all files from the disk, but does not check the disk for bad sectors. This option should only be used if the hard disk (media) has been formatted normally before and you are sure that the disk is not damaged.


► Blank And Secure is Portable tool to securely delete the data!

Tip: The C:\ on Windows cannot be formatted if Windows runs!  



(Image-1) You cannot format the system Volume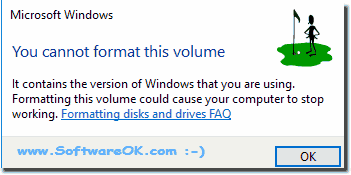 FAQ 4: Updated on: 18 April 2018 10:21