Windows requires a certain amount of free disk space for the update, this can be disabled if absolutely necessary!



Contents:




1.) Registry Hack to disable reserved memory!
1. Start Registry Editor Windows + R command regedit 

2. Open the key:

HKEY_LOCAL_MACHINE\SOFTWARE\Microsoft\Windows\CurrentVersion\ReserveManager!

3. Once here, locate ShippedWithReserves and double click on it

4. Change the value from 1 to 0 

( ... see Image-1 Point 1 to 6 ) 

That's it! Close Registry Editor and restart Windows for changes to take effect.




(Image-1) Deactivate reserved memory, registry hack!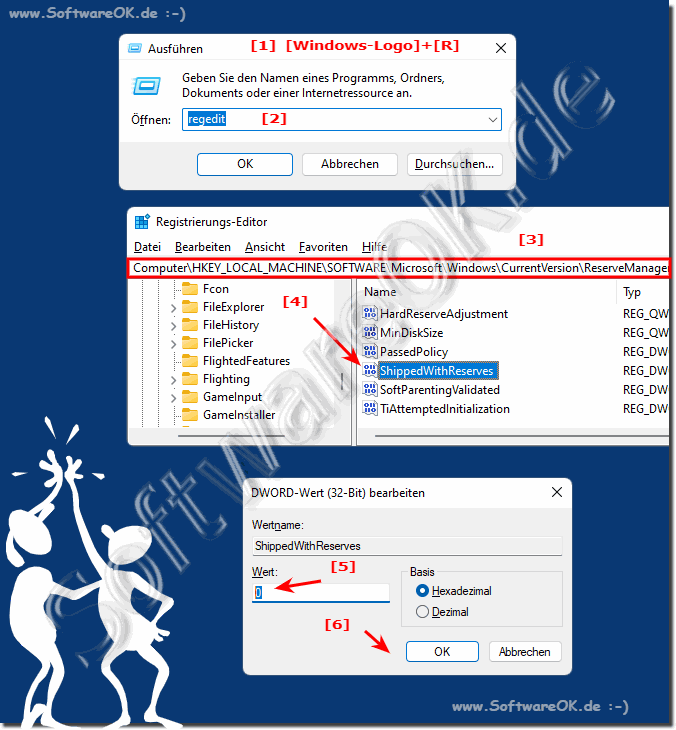 2.) More ways to free up storage space!
Running out of hard disk space can be very annoying with this little trick, which doesn't always work without problems, you can free up memory, please only use this intervention if it's really necessary. Otherwise, system crashes and problems updating Windows 11 and 10 may occur.

There are other ways in Windows 11 and 10 to provide more space on the hard drive without making the operating system unstable! 









FAQ 13: Updated on: 23 September 2022 09:28