Under any Windows 11, 10, ... etc. you can also restart the desktop, because it's not much more than a window without a title bar!
The solution to restart the desktop is very simple and it is suitable for all Windows operating systems, you don't have to resort to free tools like
ProcessKO
. The desktop is provided by MS File Explorer, so it's a sub-feature of Explorer, when you restart it, the desktop restarts as well.
1.)
Rebooting from Windows Desktop to MS Windows OS!

 
Start the command prompt (cmd.exe) and enter the command  taskkill /IM explorer.exe /F
The example is quite simple, but it works on all Windows and Windows Server operating systems. 

Tip ►  Using Taskkill with Cmd.exe correctly and sensibly with examples !



(Image-1) Restart the Windows Desktop if hangs no reaction!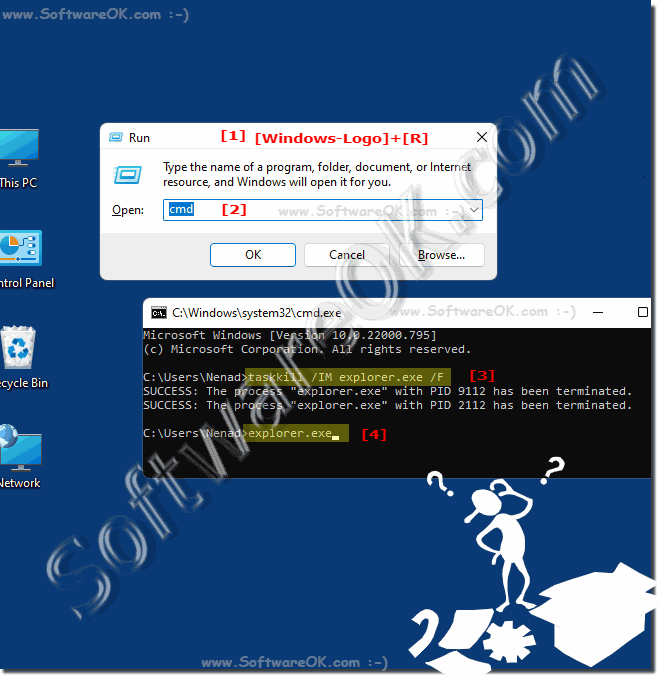 2.) What should be considered when restarting from the desktop and the dangers!
Please note that this should not be done while copying files as MS File Explorer is also responsible for copying and moving the data to the hard drives!
Copying and moving is interrupted on restart and must be restarted unless you are using an external file manager such as ►► 
Quad Explorer for MS Windows OS
3.) Old screenshot, the restart under Windows 7!
As I said, it works on all operating systems because the desktop is managed by MS Explorer!

See also:





(Image-2) The Windows 7 Desktop restart!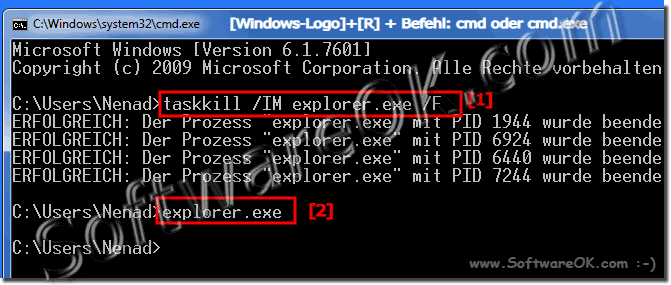 FAQ 112: Updated on: 27 July 2022 13:45