The solution is simple to uninstall Desktop Aero clock, regardless of whether it is Windows 11, 10, 8.1, ... or MS Server!




 

Content:



1.) Desktop Aero clock, remove, but like Windows!
1. Please close the TheAeroClock, (... see Image-1 Arrow-1)

2. Delete TheAeroClock.exe  and delete TheAeroClock.ini! (... see Image-1 Arrow-2)

That is it! 

At Problems, please read this: ► Open the program path via Windows-10 Task-Manager!

Please use always: ... the latest version of The Aero Clock for Windows! 

See also: 
► ... Windows Clock for Halloween Desktop Wallpaper!
► ... Desktop Clock Zelda breath of the wild, how to?




(Image-1) Uninstall The-Aero-Clock from Windows-10!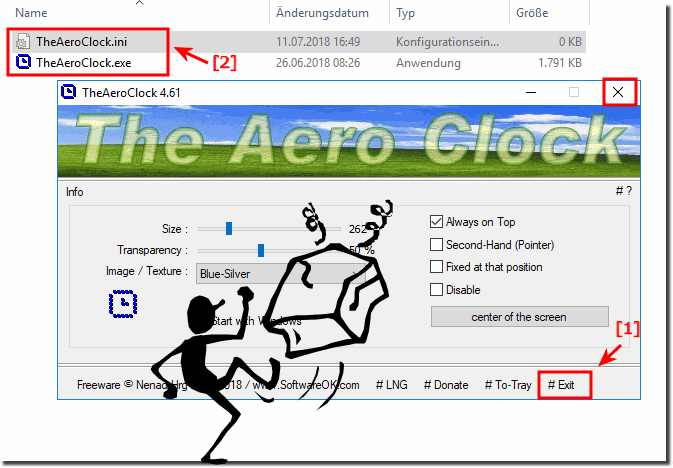 2.) What happens if I remove the desktop clock from my Windows?
Yes, if you remove the desktop clock from your Windows 11, 10 etc. the consequence is of course that you no longer have a clock on your Windows desktop, but that's not a big deal because if you change your mind you can always have the Windows desktop Download and install it again to have a nice analog desktop clock on your Windows desktop.

It is also understandable that after a while you get tired of looking at this desktop clock, but you can also try other clocks that may tell you more here you can find other desktop clocks that are used by many users worldwide.





FAQ 5: Updated on: 4 October 2022 08:15