Yes, a question that is asked very often and my answer is quite simple when choosing between a color laser printer or an inkjet printer!



I had an inkjet printer for years, the constant swapping of the cartridges and the encrustation of the cartridges was quite annoying, especially since I never got the promised 200 pages :-(.

I switched to the ... Brother HL-3140CW   (139 €), am Since then very satisfied, because I have now 2 years of peace before this annoying and sometimes dirty cartridge exchange :-) the print quality is very good and consistent. If you are looking now, maybe the newer model:  Brother HL-L3210CW Compact color laser printer

But here are my plus and minus points ;-) for both printer types (color laser printer vs. inkjet printer)! 

Color laser printer negatives: 

The color laser is more expensive to buy

The color laser printer is usually twice as large (thus more space is required)

Inferior print quality for photos on glossy paper than inkjet printers

Loud printing

Very expensive toner (

but prints up to 2500 pages per toner and there are also cheap third-party suppliers

)
Color laser printer pluses:
High durability of the prints 

The color is always the same, no encrustation of the color, even if you don't print for a year.

Fast printing speed

Better print quality with plain paper

Low paper costs offer

 optimal results even on normal  copy paper . Thus, the color laser is cheaper when printing (approx. 4 cents per side)

Less problems when using 3 vendors toners
Inkjet printer negatives:
In an inkjet printer, the ink cartridges become encrusted after a short time

Inferior print quality with normal copy paper than the laser printer

Problems when using 3 vendors ink cartridges

Very expensive ink cartridge (only prints up to 200 pages)

The ink cartridges need to be changed quite often
Inkjet printer pluses:
Inexpensive to buy

Relatively quiet printing

Better print quality with glossy paper

Very small and compact (light weight)

Usually offered as a multifunctional device.

Here is another picture of my gem :-)



(Image-1) Laser printer or inkjet printer!
" onclick="return ExternDL(this);" target=_blank>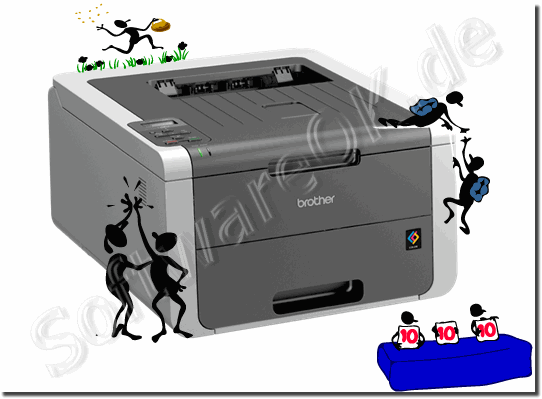 FAQ 40: Updated on: 28 August 2023 07:11