With NET ACCAUNTS you can quickly set password rules for all MS Windows 11, 10, ... Desktop and Microsoft Server operating systems!


The "Net Accounts" command allows administrators or users with Admin rights to customize login settings for user accounts from the command line known as Command Prompt. The syntax of the "net account" command is explained quite clearly here with a few examples.

Contents:




1.) Listing of current user account settings!
The overview of the current settings with the command net accounts  




Microsoft Windows [Version 10.0.19044.1706]

(c) Microsoft Corporation. All rights reserved.

 

C:\Windows\system32>net accounts

Force user logoff how long after time expires?:       5

Minimum password age (days):                          0

Maximum password age (days):                          Unlimited

Minimum password length:                              0

Length of password history maintained:                None

Lockout threshold:                                    Never

Lockout duration (minutes):                           30

Lockout observation window (minutes):                 30

Computer role:                                        WORKSTATION

The command completed successfully.

 

 

C:\Windows\system32>



2.) How to set the expiry time for the password!
Example command to set password age to 60 days



Never let the password expire



net accounts

/MAXPWAGE:UNLIMITED




3.) Changing the minimum password length
Sets the password end length to five characters




4.) Set the number of saved passwords!
This prevents the user from reusing any of the previously remembered passwords.

This example command sets the number of saved passwords to 4.



5.) Combining commands in one command line! 
You can also use multiple commands on one line 



net accounts

/minpwage:7 /maxpwage:30 /UNIQUEPW:4




6.) Why use the Net Accounts command on MS Windows OS!

With the command you can perform the most important tasks related to login with the user account on all Microsoft operating systems. So it's a great time saver if you can set it up quickly with this command!

With command: net accounts help you get information about the parameters!
(... see Image-1 Point  to 3) 






(Image-1) NET ACCAUNTS for password rules under MS Windows OS!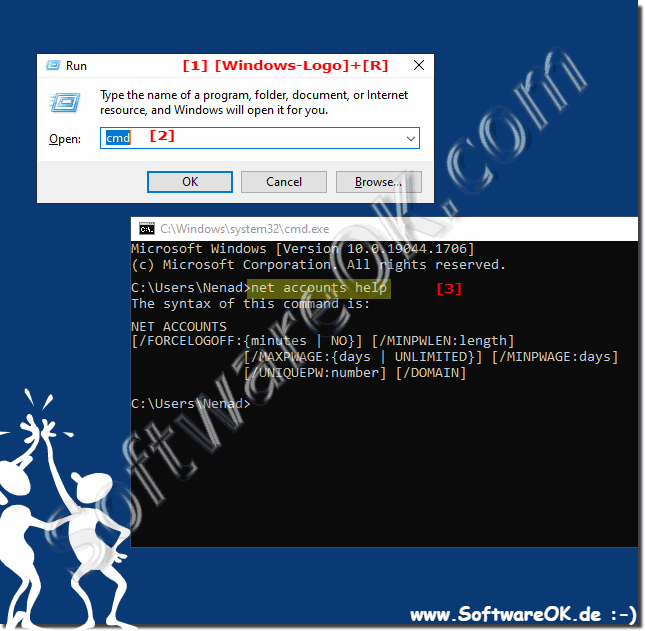 FAQ 134: Updated on: 7 June 2022 06:31