Find and open the
Advanced System Setting

in old MS Windows 10 and new Windows 11 or Server 2019, ... to change important System Properties!




1.) Start the Advanced System Setting in Windows 10 or 11 via RUN-Command.

1. Please run the command sysdm.cpl via Run Dialog in Windows
(For example, via Windows-Logo + R Keyboard Shortcut) 

2. In Window System Properties, please select the Tab Advanced.

PS: You can also use the direct command sysdm.cpl ,3 to directly switch to Advanced Tab!

(... see Image-1 Point 1 to 3)



(Image-1) RUN-Command-Advanced System Setting in Windows 10 or Windows 11!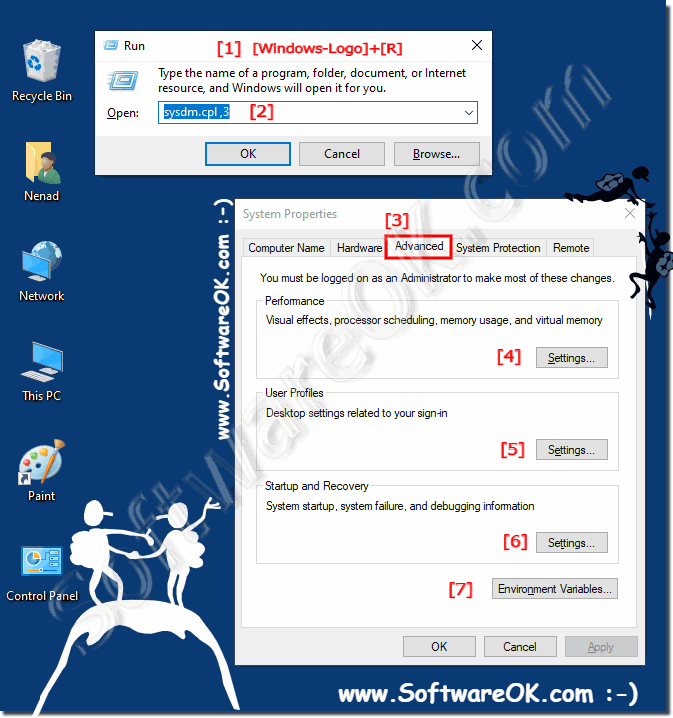 2.) Create Desktop Shortcut or pin in Start on Windows 11 or 10!
1. Please use Windows-Logo + E  and F4 + enter the Address: C:\Windows\System32 

2. Scroll down to and enter the text "System-Properties-Advanced" 

3. and do a right mouse drag&drop for a System Properties Advanced Desktop Shortcut

3. And now in do a right mouse click on  System-Properties-Advanced and easy pin to Start

(... see Image-2 Point 1 and to 5)


See also: ► ... show Control Panel, My Computer, Network on Windows 8, 8.1 Desktop and Win 10!

 


(Image-2) Windows-10 Advanced System Setting via Desktop and This PC!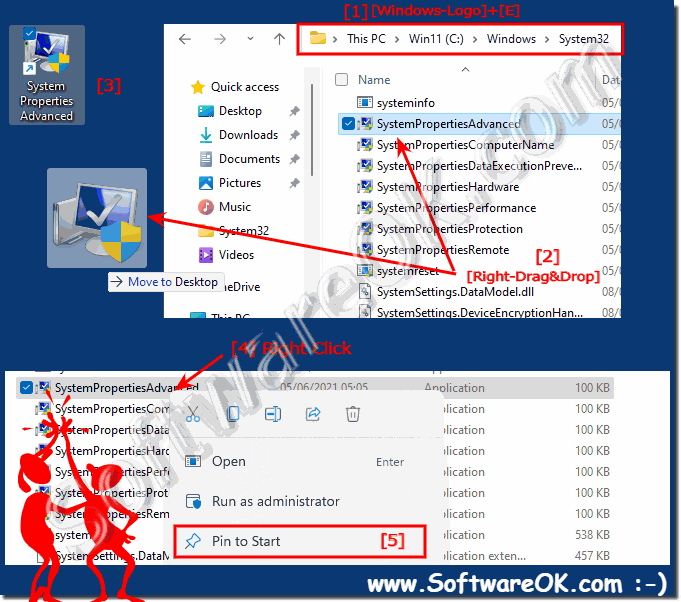 3.) Open Advanced System Setting in Windows 11 and 10 via Control Panel!
1. Please use Keyboard Shortcut Windows-Logo + R 

2. And open control panel 

3. F3 and enter the text "advanced"

4. And now in click View advanced System Setting (... see Image-3 point 1 to 4)




(Image-3) Windows-10 and Windows-11 Open Advanced System Setting via Control Panel!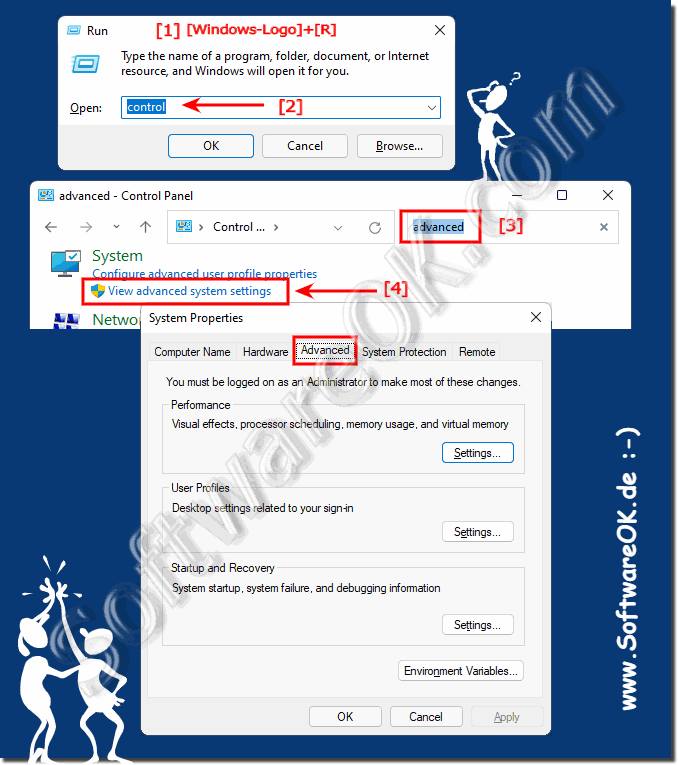 The advanced system settings is the right tool to change the system properties, here are settings of visual effects, virtual memory, system startup, etc. this examples are also suitable for Windows Server 2019 and Web 2016.



Info:

 

These examples for opening the advanced system settings are suitable for: Windows 11, 10 Pro, Enterprise, Home, Windows 8.1, Windows 8, Windows-Server 2019, 2016, 2012 this simple solution can be used here and is understandable not only for administrators but also for Windows 10 novices. You can safely use this example as a solution on other W10 devices as well, whether it's a native Windows desktop, on the go on the tablet and Surface Pro / Go, or even a business computer. It was tested at all and successfully 

verified

.

  

4.) ... Info About Advanced System Setting!



You must be logged on as an Administrator on Windows to make most of these changes in system settings or as an account with admin rights. Here are three ways ergo solutions for Desktop PC, Tablets and famous MS Surface PRO or GO This is good if you non want to Create Desktop Shortcut for Advanced System Properties or Windows GodMode! The Advanced System is are almost as important as the advanced file management!

Advanced system settings, often referred to as system properties or system configuration, are a set of options and parameters that allow users to control and customize various aspects of their computer's operating system. These settings are typically found in Windows operating systems, but similar features also exist in other operating systems such as macOS and Linux.

The general features and options you will find in Advanced System Settings include: System Information, Performance Settings, Environment Variables, User Profiles, Remote Desktop, Hardware Profiles, Startup and Recovery, Advanced Security Settings, ..etc.

To access Advanced System Settings on a Windows computer, you can usually right-click This PC or My Computer, select Properties, and then find the Advanced System Settings option. These settings are important for fine-tuning your computer's performance, security, and overall behavior according to your preferences and needs.

FAQ 10: Updated on: 12 October 2023 18:18