Change the Windows-10 homegroup password is very important for sharing files and resources, here are t
he simple and easy solution to do this in Win-10!



If you want to change the Windows-10 Homegroup Password please open 

HomeGroup

 in Windows 10 Control Panel,
or start the Windows 10 Run Command [Windows-Logo]+[R] and enter the command:


control.exe /name Microsoft.HomeGroup

 and click the text Change Password.

See also: |◇| Auto login windows 10 without password |◇| Make Windows-10 Standard User to Gust-Account 



(Image-1) change Windows-10 homegroup password!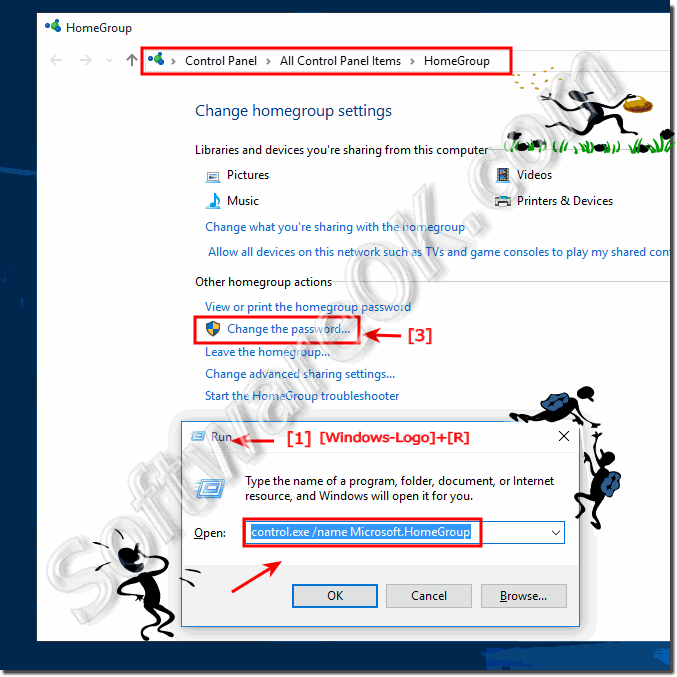 Useful Info from (c) Microsoft:

After you create a homegroup in Windows 10, add the other computers on your home network to it. Until the other computers join your homegroup, you won't be able to access their shared files and resources.



A homegroup makes it easier to share files and printers on a home network on windows 10 and other Windows OS. You can share pictures, music, videos, documents, and printers with other people in your homegroup. Other people can't change the files that you share, unless you give them permission to do so.

 

When you set up a computer with this version of Windows, a homegroup is created automatically if one doesn't already exist on your home network. If a homegroup already exists, you can join it. After you create or join a homegroup, you can select the libraries that you want to share. You can prevent specific files or folders from being shared, and you can share additional libraries later. You can help protect your homegroup with a password, which you can change at any time.

 



FAQ 116: Updated on: July 30th 2017 06:35