Yes,
Windows 10/11 also has a hard disk manager

. It is very easy to see the partitioning of the hard disk partitions under Windows 10!



 





1.) Detect the hard drive partition on Windows 10/11 drives!
Please start the disk management in Windows 10/11!


1. The fastest way is via the key combination Windows + X.

2. Select the menu entry "Disk-Management"
 
3. Now you can see all hard drives and partitions under Windows 10, 8,1, and MS Server

(... see Image-1 Point 1 to 3)

PS:
Very practical if you want to shrink the hard disk partition, or change the drive letter of external hard drives, or USB stick , but you should shrink the hard drive shortly after commissioning Windows, otherwise you have later it very difficult.  




(Image-1) disks partitions on Windows-10 in Disk-Manager!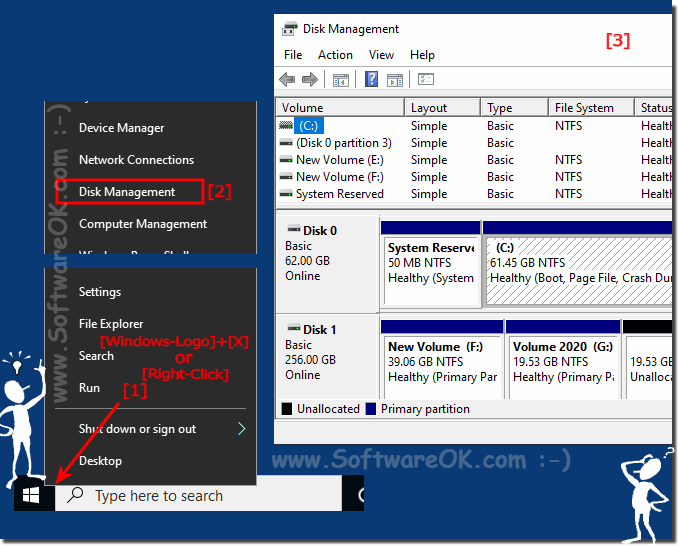 Simpler partition creation. When you right-click a volume, you can choose whether to create a basic, spanned, or striped partition directly from the menu. 

Disk conversion options. When you add more than four partitions to a basic disk, you are prompted to convert the disk to dynamic or to the GUID partition table (GPT) partition style. 

Extend and shrink partitions. You can extend and shrink partitions directly from the Windows interface.




2.) Format the hard drive partition on Windows 10 drives!

 Formatting and partitioning on Windows 10 is almost as important as a free writing program ! 



3.) Assign or change a letter to the hard disk partition!
FAQ 89: Updated on: 25 August 2023 12:22