There are several ways to perform a search in Windows 10/11.
The Desktop Search

Shortcut is one way, to type in the search box at the top of open window, when you start typing, the Windows 10/11 search begins automatically!



To create the search shortcut on The Windows 10 or 11 desktop please RUN the command 


%windir%\explorer.exe search-ms:

  from The Windows-10 Run Dialog.  And use Left-Mouse Drag and Drop! 
(... see Image-1)

Other Examples:


Search for XLS on C:\




search-ms:displayname=Search (xls on C)&crumb=*.xls&crumb=location:C:\


Search for xls and doc Files on C:\ and D:\
search-ms:displayname=Search (xls and doc on C and D)&crumb=*.xls OR *.doc&crumb=location:C:&crumb=location:D:


You can also search  in the search box on the Windows-10 Start menu.

See also:
Remove search the web box ► Turn off windows 10 search indexing ► find out what type is my Drive ► Search Tipps



(Image-1) Search-Shortcut on the Windows-10 Desktop!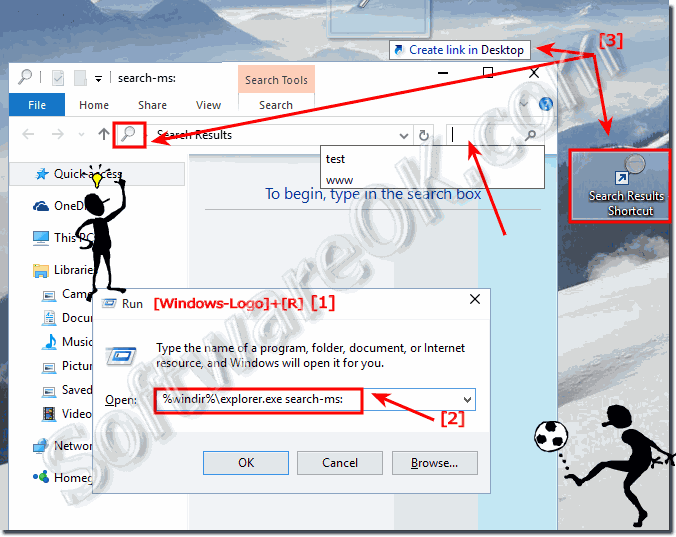 Useful tips from (c) Microsoft:

Hide content What does it mean when I see a message that search results might be slow?
It means that the location you're searching isn't indexed. Normally, you get search results quickly because the search includes only the locations on your Windows-10 computer that are indexed. If you change the locations that are being searched, or if you open a folder that's not in the index and search there, the search will take longer. Searches outside of the index only look for files by file name, but index searches on  Windows-10 also look for file contents and an assortment of file properties. If you frequently see this message when searching a specific location on your  Windows-10 computer, you should add that location to the index.

Show content Hide content What does it mean when I see a message that search results might be incomplete?
It means that the files are still being indexed. To perform fast and accurate searches,  Windows-10 collects information about files on your computer. This information is stored in the index. Periodically,  Windows-10 needs to update the index. If you perform a search while the index is being updated, the results might be out of date.



FAQ 98: Updated on: 3 July 2021 06:37