It is quite easy to adjust which desktop icons should be displayed under Windows 11 and which should not!

Even if the desktop icons always play a minor subordinate role for Microsoft, for many desktop users the desktop icons are an important reference point for starting Windows 11 programs, system settings, ... etc.!


1.) Customizing the Windows 11 desktop standard icons!
If the desktop icons or shortcuts are not displayed on the desktop under MS Windows 11, please activate the desktop icons on Windows 11 to see them!

1. Windows + R shortcut 

2. The desk.cpl, 5 confirm command with Enter  

3. And activate desktop symbols that are required under Windows 11

(... see Image-1 Point 1 to 3) 

Windows 11 does not show any special symbols by default for example "This PC", "Trash", "My Documents" on your desktop. If you want classic Windows icons, you can simply activate the desktop icons!




(Image-1) Customize which desktop icons are displayed under Windows 11!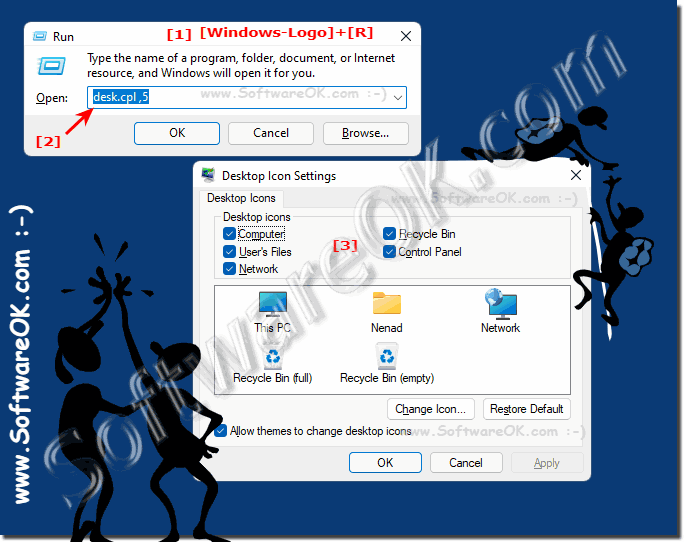 2.) The size of the desktop icons and hide / activate the desktop icons! 
Very large or too small icons on the Windows desktop make users nervous, frustrated, and / or confused, here is an example of how to change it!

Would you like to hide all of your desktop icons instead? Just right click on your desktop, select "View" and toggle the "Show desktop icons" option off.

(... see Image-2 Point 1 to 4) 




(Image-2) Adjusting the size of the desktop icon under Windows 11, hide and display!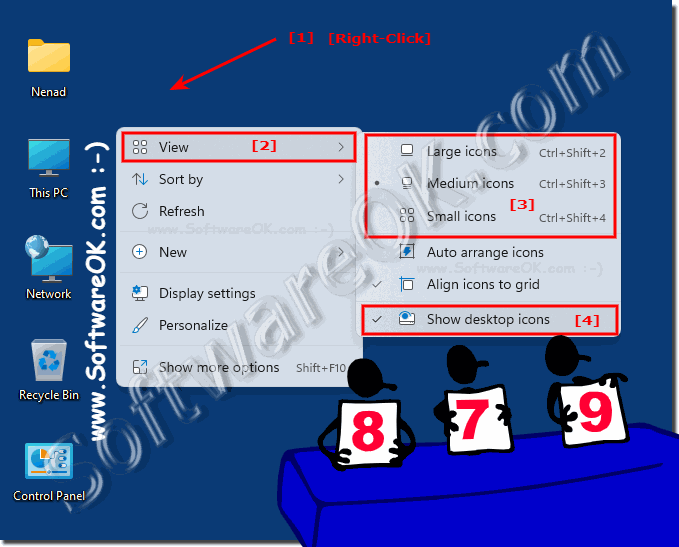 3.) What should you watch out for with the desktop symbols on Windows 11!
If you have set up everything nicely, you don't have to worry, except that the desktop icons are sometimes not where you want them, you can use DesktopOK here, but you don't have to! 

If there are not too many icons you can rearrange them manually or have them rearranged automatically (... see Image-3 Point 1 to 3) , if you prefer to hide the desktop icons time-controlled, then you can consider ►► AutoHideDesktopIcons draw! 




(Image-3) Let Windows 11 arrange desktop icons automatically!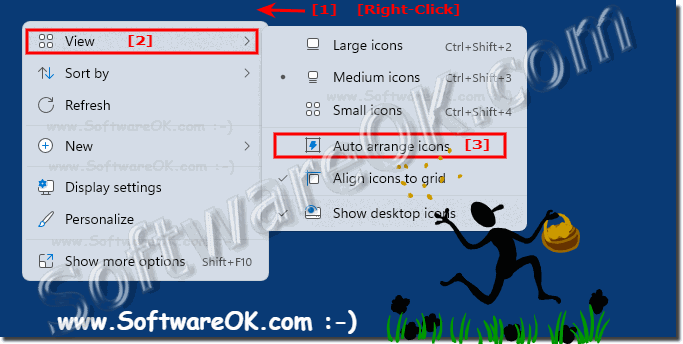 FAQ 165: Updated on: 26 August 2023 08:12